Israel has drawn a new "red line" in the conflict with Iran. After Iran's nuclear program appeared under strict international control, Tel Aviv "has set another stop signal" in the region. Under no conditions will Israel allow a "Shi'ite corridor" from Tehran to Damascus, Israeli Defense Minister Avigdor Lieberman made such a bold statement on September 8.
"We are not looking for any military adventure in Syria but we are determined to prevent our enemies from harming, or even creating the opportunity to harm the security of Israeli citizens," Lieberman said. "Therefore, everything will be done to prevent the existence of a Shi'ite corridor from Tehran to Damascus."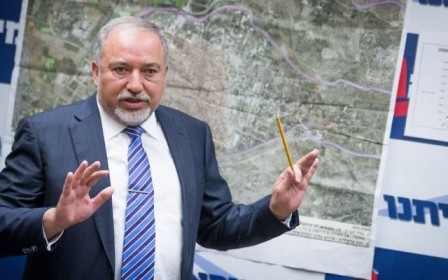 Maj. Gen. Herzl (Herzi) Halevi, Chief of the IDF Military Intelligence Directorate, also approved Israel's resolute stance on September 7. "The serious security threats against Israel from armed groups are being aided by Iran, which are serious, but not existential threats," Halevi said. "Iran is working to position itself on our borders with Syria, Lebanon and Gaza, flooding those borders with deadly ideology."
Israel's warnings were backed with specific actions days earlier. On September 5, the Israel Defense Forces (IDF, Zahal) has deployed thousands of air, sea and land personnel to the Lebanese border for its biggest military drill in almost two decades. Codenamed 'Or Hadagan' ('Light of the Grain'), the 10-day-long drill imitates war against Hezbollah on the northern borders of Israel, 11 years after the Second Lebanese War (July-August, 2006).
Zahal's maneuvers involved all types of troops, including Israeli Navy's submarine fleet. Specifically, it is twenty brigades of land forces (infantry, armored vehicles, artillery), special units, rear and engineering troops, Air Force and the Navy, as we as the Intelligence. The drill will utilize fighter planes, ships, submarines, drones, cyber and canine units.
On the first days of the drill, Israel's aviation bombed a factory in area of Masyaf, in central Syria from the air space of Lebanon. According to Israel's Intelligence, the factory allegedly produced chemical weapons. On the next few days of the drill, Israel's Air Force violated the airspace of the neighbor Arab country for several days to demonstrate its power to Lebanon and what may happen in case of a war against local Hezbollah.
Both the sides on the Lebanon-Israel and Syria-Israel borders comprehend that a new large-scale war between Israel and Hezbollah will inevitably spill over into the neighbor states and prompt direct clashes between Israel with Iran.
Israel's drill and the real bombings of Syrian territory fits into the strategy of preventing "Shi'ite corridor" in the region. Recently, Iran has been achieving too much success on the Syrian front. Actions by regional and global powers helped Tehran strengthen its positions. Israel couldn't stand still, much less after de-escalation zone was declared by Russia, U.S. and Jordan in the southwest of Syria (Daraa, Quneitra and Sweida) on July 9.
Tel Aviv responded quite negatively to the de-escalation zone, since such situation on its borders with Syrian and Jordan holds Zahal from making preventive strikes on pro-Iranian groups. With its air raid on September 7, Israelis made it clear that they are going to act the way they did before despite any restrictions (1). "Blocked" from the south, Israel bombs from the north even if it has to penetrate into the air space of a sovereign state (Lebanon). Such was Israel's message to Russia and U.S.
Two weeks passed since the last meeting of Prime Minister Benjamin Netanyahu and President Vladimir Putin in Sochi on August 23 and the air strike on Masyaf, Syria. Earlier, Moscow was believed to have a neutral stance on regular strikes by Israeli Air Force on Hezbollah convoys and facilities in Syria despites its close partnership with Iran in Syria. However, after July 9, the situation in the south of Syria has changed dramatically. De-escalation zone created there has turned into a "non-fly" zone for Israel. In the north, Israel's Air Force faces such obstacles as presence of a powerful air defense group of Russia's Air Force in Syria's Latakia and Tartus provinces.
After bombing Syrian facility on September 7, Israeli sources hinted, though informally, that Zahal's actions were preliminarily coordinate with the Russian command in Syria. Otherwise, a risk of unforeseeable situation would emerge, considering the presence on S-300 and S-400 missiles systems (2) in the territory of Syria. Nevertheless, a "hot line" between militaries of Russia and Israel could be insufficient to prevent potential emergency incidents. The situation required a high lever contact.
This does not mean, however, that the Russian military command and political leadership gave a "green light" to Israel to bomb Hezbollah from the north. Such carte blanche to Israel was unlikely given the strikes on governmental facilities in Syria's Masyaf.
Anyway, the level of political confidence between Moscow and Tel Aviv in Syria makes Russian leadership take quite seriously the concerns of its Middle East partner. "Shi'ite corridor" is fraught with high geopolitical expenses for it. The Kremlin cannot ignore that fact.
▼ читать продолжение новости ▼
As to its U.S. ally, Israel demands from it much more than from Russia. U.S. troops are in the northeast and southeast of Syria. "Shi'ite corridor" will not be created via northern territories in Hasaka and Raqqa province controlled by Syrian Kurds. The Kurdish "barrier" appears to be formidable for Iran.
In the southeast of Syrian front things are not clear for Israel. Tel Aviv is concerned as Syrian government troops along with pro-Iranian groups have not given up their plans to take control over Abu-Kamal (Al-Bukamal), a strategic city on the border of Syria and Iraq. On the north, U.S. and the Syrian rebels it backs have plans for Abu-Kamal as well. Daesh militants (Islamic State, ISIS) control that small city along with Iraq's Al-Qaim located on the other side of the border.
To liberate Abu-Kamal, anti-Jihadist forces supported by Russia and U.S. have launched a kind of "race" in the east of Syria. From the north, Syrian Democratic Forces (SDF) of Arab-Kurdish Coalition have entered Deir-ez-Zor. Yet before full destruction of ISIS group in Raqqa, the U.S.-backed Arab-Kurdish alliance with Kurdish People's Self-Defense forces in the lead opened its front at the foot of Deir-ez-Zor in early September. From the south, other U.S.-backed forces are preparing to take Abu-Kamal from their stronghold in Al-Tanf, Homs.
Earlier, it was reported that U.S. might "disband" Jaish Osoud al-Sharqiya and Ahmed Abdo brigades, two rebel groups affiliated with the so-called New Syrian Army (NSA, since December 2016, this alliance has been called also Jaish Magawir Al-Thourah, Army of Revolutionary Commandos) were trained and armed under CIA's "Syrian program."
Israel more than others wishes to see Abu-Kamal under control of pro-U.S. forces. It would be ideal for Israel if the Kurdish rebels in Syria got that strategic area first. The problem is that Syrian Kurdistan has expanded its de-facto borders and become a big obstacle to Iran's "Shi'ite corridor". While U.S. hesitates to entrust any force with the land operation against ISIS in Abu-Kamal, Kurds are gaining ground and paving their way to Deir-ez-Zor.
They have neither capacity nor desire to clash directly with Bashar al-Assad's Syrian government troops advancing from the east of Syria. Anyway, they may try to bar Syrian army and pro-Iranian groups allied with it from attacking Abu-Kamal.
Abu Kamal is located along the Euphrates River approximately as far from Mayadin (45km southeast of Zeir-ez-Zor) as to Deir-ez-Zor. Actually, before taking Abu-Kamal, the SDF groups operating from the north will have to drive ISIS from Mayadin. It is an extra-hard task for the Arab-Kurdish coalition, which is still to mop up Raqqa (up to 75% of Raqqa is currently under control of SDF).
The force that will be the first to circumvent Deir-ez-Zor cementing a place for the future operation to it will become a dominating force in the east of Syria and dictating its rules. Israel fears that Iran's militarized satellites in the region will become the key component of that force. In that case, "Shi'te corridor" may come closer to the Iraqi-Syrian border. Therefore, Israel pin hopes with Syrian Kurds and more and more openly hints that they consider ISIS lesser evil than pro-Iranian groups.
Yair Golan, Major General and former deputy chief of General Staff in Israeli Army, delivered a speech at the Washington Institute for Near East Policy saying Iran poses a greater threat to his country than the "caliphate" that is suffering defeat in both Syria and Iraq. For Israel, Iran is "much more threatening compared to the Daesh threat," Golan asserted, using the Arabic acronym for ISIS, "because the Iranians are sophisticated, they are a higher form of civilization, they have a nice academic infrastructure, nice industry, good scientists, many talented young people. They are very similar to us," he said. "And because they are similar to us, they are much, much more dangerous."
So far, Israel has to content itself with intensified airstrikes of the U.S.-led coalition against ISIS positions in the area of Abu Kamal. Noteworthy that on the same day when PM Lieberman came out against "Shi'ite corridor", on September 8, the U.S. Air Force made only one strike, but at the foot of Abu-Kamal. Eleven out of the 12 airstrikes of that day were on Raqqa and one on the east of Deir-ez-Zor. Actually, that airstrike and the episodic air raids of U.S. in the area of Abu-Kamal meant that the given area of the future ground-based operation against ISIS is under control of American troops. They acted in the similar way also near Al-Tanf driving pro-Iranian groups away.
"Shi'ite corridor" cannot be blocked just by airstrikes of Israel and U.S. respectively in the west and east of Syria, even in case of much intensified airstrikes and high-density bombing. They need friendly land forces that would undertake the hard mission of spoiling Iran's plans on the Iraqi-Syrian border. There are no such now, except relatively combat efficient but exhausted and weakened Kurdish rebels in Syria.
(1) Before ceasefire was brokered in the south of Syria, Israel's Air Force attacked targets in the territory of Lebanon repeatedly. The key targets were arms depots of Hezbollah and convoys that, as Israel's Intelligence claimed, supplied arms from Syria to Lebanon. After Russia, U.S. and Jordan created de-escalation zone in the southwest of Syria, Israel avoided making airstrikes deep in the territory of Syria until September 7.
(2) Syrian Masyaf is located several dozens of km from Tartus Port where Russian military and naval base is deployed and not far from Hmeimim Air Base. In the bases have air defense and anti-missile systems S-300 and S-400.
EADaily's Middle East Bureau