Turkey's ruling regime is leading the country towards the final stage of its transition from a parliamentary to a presidential republic. Recep Tayyip Erdogan's cherished goal is to have all power in his hands and he is as close to it as never before. But he has no guarantees that the referendum announced by his Justice and Development Party will give the desirable results.
If the referendum fails, Erdogan may face a vote of non-confidence. That is why he is using all the resources he has at the moment to push his constitutional reform through and he expects no less than 50% support.
The referendum is scheduled for Apr 16. One of the key points of the reform is that there shall be no prime minister and his powers shall be given to the president, who shall be able to form the cabinet and shall have several deputy prime ministers. The parliament shall be enlarged from 550 to 600 seats. There shall be no reelections. Instead, the parliament shall have "reserve" deputies, with only the parliament and the president to have the authority to call repeated elections.
The referendum campaign was launched on Feb 25 and is being led by Turkish Prime Minister, Chairman of the Justice and Development Party Binali Yildirim. It is strange to see a prime minister campaigning for a reform stipulating no post of prime minister. Perhaps, Yildirim has been promised the post of First deputy prime minister and the role of Erdogan's right-hand man - of course, if he justifies the confidence reposed on him by the president.
On the very first day of the campaign, Yildirim said that the reform would make Turkey more resistant against external challenges and more efficient in economy. Thus, the Justice and Development Party's choice is to centralize power in the face of hard times. This choice has already been made by many Middle East nations. In the Middle East, Central Asia and the South Caucasus, we have already seen lots of examples of a centralized self-reproducing ruling regime and a lifelong leader.
One of the models is Iran. And even though Erdogan is suspicious of Iran, he cannot but admit that the government system of that country is quite efficient. Iran has proved to be immune to all possible challenges: not only has it has survived the West's crippling sanctions, avoided the Arab Spring and recorded no single terrorist act in its territory but it has also become even more influential in the Middle East. Constantly pestered by terrorists, the Turks cannot but envy such an immunity.
And they are not alone. The Azerbaijanis are also taking steps to adopt the Iranians' practices.
Coming back to Turkey, we should say that Erdogan's presidential republic project is not a guarantee against surprises. After the last year's triumph, Erdogan has no serious problems but coups do not come from nowhere and in the most cases, they are symptoms of public displeasure.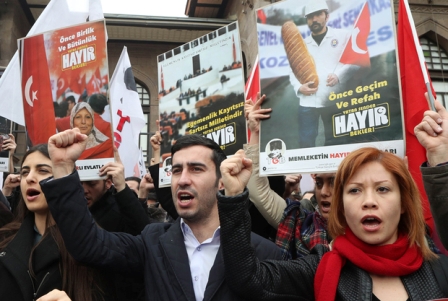 And despite his las year's victory, Erdogan continues fighting the coup. His weapons are repressions and legal actions. His system has already minced thousands and even tens of thousands of opponents.
Today, much in Turkey resembles the late 1930s in the Soviet Union. Stalin also had a phobia of military coups and he also prosecuted hundreds of people (1).
Any compliant in the Turkish army is brutally suppressed. No surprise that Erdogan is still suspicious of his generals. A few days ago, Editor-in-Chief of Hurriyet Sedat Ergin was forced to resign following an article by his journalist Hande Firat. In her article, Firat said that the Turkish generals are displeased with the ongoing reforms in the army and particularly with the decision to allow female soldiers to wear hijabs. Erdogan was enraged: "Nobody has the right to pit those in the state against each other, everyone should know their place. You are being disrespectful... Whoever is trying to pit us against each other will pay a heavy price."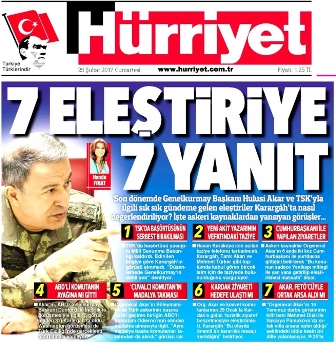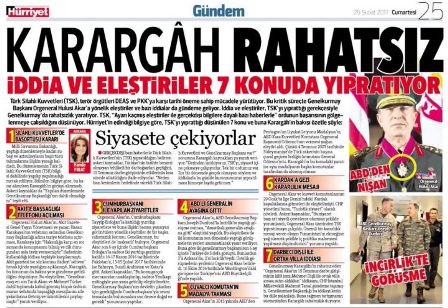 For the Turkish Kurds it has long been 1937. Their riot in the southeast of the country has been suppressed but may recur at any time. Erdogan is closing Kurdish mass media (2) and is persecuting Kurdish activists and MPs for "promoting terrorism." As many as 29 of the 59 MPs from the pro-Kurdish People's Democratic Party have been put in jail. Among them are the two-co-chairmen of the party Selahattin Demirtas and Figen Yuksekdag (3).
The People's Democratic Party is paying the heavy price for its criticism of Erdogan's constitutional reform. The key opposition force in the Turkish parliament, the Republican People's Party, is also contra, with its leader Kemal Kilicdaroglu having blamed Erdogan for an attempt to turn Turkey's democratic parliamentary regime into a totalitarian regime. But Erdogan's key enemy is the Kurds. It was their parties that prevented Erdogan's party to form a cabinet in 2015.
Now they are his key target. The Kurds are worried as no matter how the referendum ends, they will still be the losers. If Erdogan wins, he will put even bigger pressure on their public and political forces and will present this as a fight against separatism and terrorism. The Kurds' parliamentary group is not as strong as before and cannot help them in any way.
If Erdogan's referendum fails, the Kurds may face even worse consequences. Erdogan will be angry and revengeful and the Kurds will be the scapegoats.
But the Kurds are not the only ones concerned. There are lots of such people in the ruling Justice and Development Party. They perfectly know how Erdogan acts when he is strong: once he becomes stronger, he begins to get rid of his closest comrades. The most vivid examples are Abdullah Gul and Ahmet Davutoglu.
And if Erdogan wins this time, he may become really unstoppable for both his enemies and friends. He was very tough after his victory in Aug 2014. But this time he may grow even tougher.
(1) The biggest trial so far in Turkey followed the last year's attempted coup. As many as 330 (!) people came before the Sincan court on charges that may send them to jail for years. Many of them are former students of Polatli, a military college in Ankara.
(2) "There is only one TV which still broadcasts in Kurdish and its government-run. The vast bulk of pro-Kurdish radio stations, news agencies and websites have been closed. This is matched by the arrest of scores of Kurdish politicians since the coup, including MPs and elected mayors. (Jonathan Steele, 'If Erdogan wins it will be worse for us': Turkey's Kurds fear stronger presidency // Middle East Eye, February 27, 2017).
(3) On Feb 21 Demirtas was sentenced to five years in prison for "humiliating the Turkish nation." Yuksekdag is also in custody and is facing the charge of "promoting terrorism."
EADaily's Middle East Bureau