The new year has brought quite good news to Russian gas suppliers and producers. In 2017, Gazprom saw record-breaking export figures occupying 36% of the European market. At the same time, first supplies of LNG from Yamal were to Spain and U.S., where Russia does not supply gas so far.
Europe needs Russian gas
Last year, Gazprom again ensured a record-breaking gas export to Europe – up to 193.9 billion cubic meters, according to recent reports. "This exceeds the previous record made in 2016 by 14.6 billion cubic meters (by 8.1%)," Gazprom CEO Alexey Miller said.
He explained the upward trends with the actively growing demand for the Russian gas in Europe and uninterrupted and appropriate supplies.
In fact, no other supplier, including Norway and Algeria, would manage to increase exports in such short period of time. Besides, the Russian gas price was lower than LNG price and the pipeline gas from Scandinavia and north of Africa.
According to ICIS, UK, Gazprom's share in the European market increased to 36% in 2017. The second large supplier is Norway, which used its maximum supply capacity and accounted for 24% of total gas supply to EU, though domestic recovery was below 23% in 2017.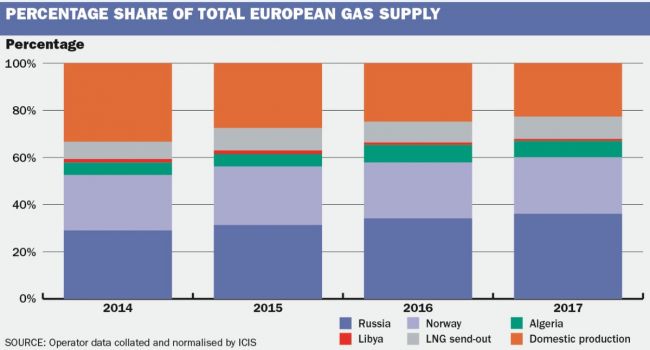 "The situation in 2018 will greatly depend on fluctuating weather conditions that are still important as well as the growth of LNG supplies from North America for which the Pacific and Latin America are still more attractive than Europe. That is why those supplies do not affect Gazprom's positions so far," FINAM information group analysts say.
Alexey Grivach, Deputy Director of the National Energy Security Fund, says further gas supplies to Europe depend on dynamics of prices of energy resources and energy policy of EU countries and the European Commission.
"If Europe further refuses from coal, which is logical from the viewpoint of environmental policy, it will need 200-300 billion cubic meters of additional gas import in the mid-term outlook," the expert says. He believes that these volumes can be ensured only through mobilization of all resources. "For certain, it will be impossible to do it without Russia. Experience shows that our gas has certain advantage in case of fair competition," Grivach says.
Poland, in turn, has reduced import of Russian gas. At least, according to PGNiG reports, in the first half of 2017 and in the third quarter, by October 1, the company imported 7.1 billion cubic meters of Russian gas – 600 million cubic meters less than for the three quarters of the last year. Gazprom's share in Poland's import fell from 90% to 71%. The rest were gas supplies on spot contracts from Europe and LNG from Qatar (16% and 13%, respectively).
Poland has increased import of non-Russian gas for political reasons, not economic ones, though in a recent interview, PGNiG Vice President Maciej Woźniak said Warsaw is ready to purchase Russian gas but on normal market terms. The point is that PGNiG is not happy that German companies work with Gazprom on more favorable terms and may oust the company even inside Poland. For instance, by data of PGNiG, in June of the last year, gas on the spot market in the neighbor state cost $219 per 1,000 cubic meters, whereas in Poland it cost - $241.
Poland will hardly manage to achieve the same conditions as German companies did. They not only buy more Russian gas, but also participate in transportation and recovery projects of Gazprom and do not create any obstacles to the Russian holding's projects in Europe. Nor they have concerns about getting dependent on Russia.
Last year, Germany imported 53.4 billion cubic meters of Russian gas which accounted for 27% of its total import and is comparable with the Nord Stream's capacity of 55 billion cubic meters. Coupled with the growing supplies to other North European countries, Netherlands (up to 4.6 billion cubic meters), France (up to 12.3 billion), Denmark (up to 1.75 billion), and sustainable growth of demand in UK (about 18 billion), the construction of Nord Stream-2 seems as never relevant. EADaily has already published an article about economic feasibility of replacing the Ukrainian route of the Russian gas supply to Europe with the Baltic one.
A similar situation is observed in the southern direction where Turkish Stream is being built. Turkey increased import of Russian gas through Blue Stream and via Ukraine, from 24.7 billion cubic meters to 29 billion cubic meters.
"The growth is tangible throughout Europe. Just in three years, supplies from Russia to EU have increased by 33 billion cubic meters. With the additional infrastructure, reliability and flexibility of supplies increases significantly, at the same time reducing the possibility of price shocks which we are witnessing now in the northeast of U.S. where gas prices exceed the level of prices in other regions of U.S., as well as in Europe and even Asia, manifold," Alexey Grivach says. Earlier, he told EADaily that Gazprom's export to Europe may decrease insignificantly within the coming years as supplies of Russian gas to Ukraine will be resumed. Presently, Ukraine imports gas from European traders. Stockholm Arbitration Tribunal ruled that Naftogaz of Ukraine is obliged to take and pay for at least 4 billion cubic meters of gas annually.
First shipments of LNG from Yamal to where Russian gas not been supplied yet
First shipments of liquefied gas from Yamal LNG project reached their final consumers in U.S. and Spain. We have already written that before April, when contract deliveries will be launched, Yamal LNG will be delivered under spot contracts and the first delivery was made by Christophe de Margerie tanker to Isle of Grain terminal at Harwich International Port in UK on December 27 for Petronas oil and gas corporation, Malaysia. On January 2, ICIS Editor Ed Cox said in a tweet: "The Gaselys LNG vessel is at the UK Grain terminal to reload Russian Yamal cargo dropped off last week." On January 7, judging from data of Marinetraffic, it left UK and sailed to Everett Terminal near Boston. The vessel is anticipated to arrive there on January 22.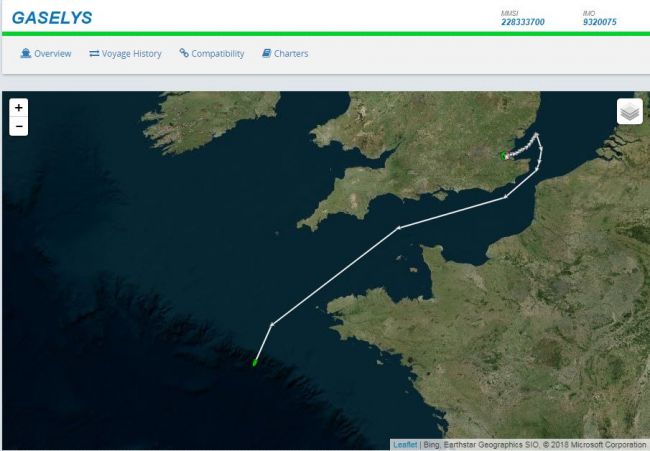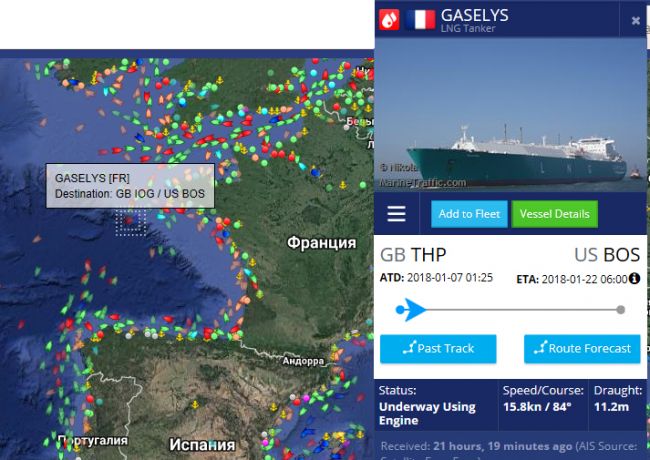 Kommersant newspaper, Russia, reported today that French Engie delivers LNG after repurchasing it from the Malaysian company. The ongoing delivery of 100 million cubic meters is the first export of Russian gas to U.S. "The reason of such strange transaction is gas price hike on the eastern coast of U.S. The snowstorms of the recent few days have sparked an unprecedented rise in gas price - $6.3 thousand per 1,000 cubic meters. Yet, the deal will hardly become a trend. It just means that gas market is turning global," the newspaper writes. According to the source, French Engie came out as the final consumer, since it has reserved re-gasification capacities at Everett Terminal – 6.9 billion cubic meters annually. The paper writes that gas prices on the eastern coast of U.S. keep falling but are still attractive.
"As of January 8, prices in New York fell to $12.65 per MBTU ($449 per 1,000 cubic meters), in New England – to $20.25 ($718 per 1,000 cubic meters), but these levels are still attractive for LNG with a spot price of some $11 per MBTU ($390 per 1,000 cubic meters)."
Recall that in mid-2000s, Gazprom planned export of LNG from Shtokman field, but the situation has changed after the "shale revolution."
Kommersant interviewed a trader who said that in winter period it is very hard to find free, not contracted volumes of gas, therefore deals with strange geography are a usual thing. It does not seem embarrassing any longer that Norwegian LNG delivered to UK or Spain is later reloaded to Asia."
There was quite different situation with the second delivery of LNG from Yamal. On December 29, Boris Vilkitsky LNG tanker delivered it for CNPC, Chinese state company, to Rotterdam. However, LNG was not delivered to China. ICIS journalist Zog Weiler who tracks vessels left a post on Twitter saying that on January 2, Russia liquefied gas was reloaded on Clean Ocean tanker and it sailed to Mugardos LNG Terminal at Ferrol Port in Spain.

In December, gas prices in Spain were high but not as high as in Asia ($10 per MBTU versus $11 per MBTU). However, delivery to Spain from Rotterdam costs much lower. Therefore, perhaps, CNPC sold LNG to Spain. As to contractual liabilities of Yamal LNG, Zog Weiler wrote that Gas Natural Fenosa, Spain, is anticipated to receive contracted gas (2.5 million tons a year) starting April.
According to Marinetraffic, the Clean Ocean tanker was unloaded at Ferrol yesterday and is now awaiting order there.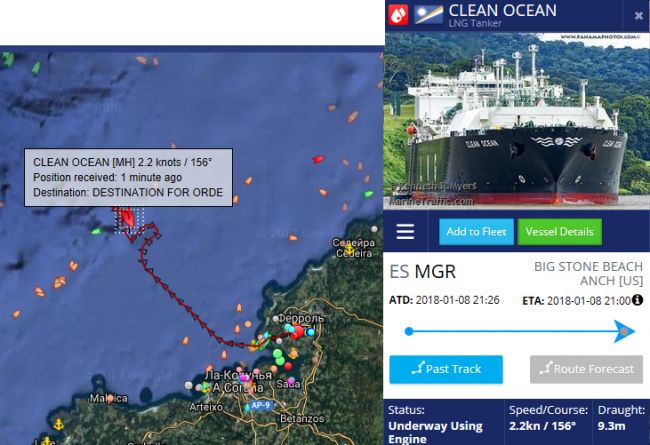 Analysts say that Yamal LNG project founders have promised to deliver liquefied gas to Asia and even to the European states that have no pipeline from Russia. This may have an indirect impact on Gazprom's export.
"Even for the markets, which our pipeline gas cannot reach physically, for instance Spain, Portugal or south of France, an increase of LNG supply amid unchangeable demand will change the flows inside Europe and reduce pumping from our pipeline," Alexey Grivach told EADaily earlier. "It was for a reason that during discussions of LNG export liberalization in 2012 Novatek assured everyone and promised the government that the entire gas from the project would be supplied to Asia not to compete with Russian pipeline gas export." The only chance for LNG to avoid competition with pipeline gas in EU countries, is that Europe's demand for the Russian gas be at the maximum level of the contract and physical capacities, but still not sufficient to satisfy the total demand of the European market, the expert said.
Timera Energy international consulting company considers Yamal LNG as one of the world's most prospective projects. If Yamal LNG fails to compete with Qatar's liquefied gas, it will easily compete with the American one, analysts say.
It is anticipated that 16.5 million tons of LNG (about 23 billion cubic meters) will be delivered under the project of three technological LNG production lines of Yamal LNG annually. Most of the gas has been contracted by Yamal LNG shareholders – NOVATEK (50.1%), Total, France (20%), and CNPC, China (20%). Besides, Gazprom and Gas Natural Fenosa will be buying by 2.5 million tons on an annual basis.
"Yamal LNG is one of the few current success stories in the Russian Arctic," earlier said Yekaterina Klimenko, Researcher at the Stockholm International Peace Research Institute. In her words, it also is a success story for international cooperation in the Arctic and one of the few cooperation projects that survived the sanctions.
Besides Yamal LNG, NOVATEK plans to implement Arctic LNG-2 project on the Gydan Peninsula. It will have a 20-million-ton capacity and cost $10 billion. The difference of price comparing to the first project results from the company's plans to build gravity platforms in Murmansk region for a modular plant to produce liquefied gas.