As Donald Trump visited Beijing, government institutions and companies of China and U.S. signed a five-party joint development agreement (JDA) on Alaska LNG. Russian mass media have already called the project worth $43 billion an alternative to Gazprom's Power of Siberia. Alaska State government called it a historical deal: "This historic signing is the most significant step toward finally monetizing Alaska's vast resources of natural gas."
The project particularly provides for construction of a LNG plant in Nikiski city, in the south of Alaska, and link it to the network of gas fields Prudhoe Bay in the north through a 1,280km-long pipeline. The annual designed capacity of the project will be 27.6 billion cubic meters (designed capacity of the Power of Siberia is 38 billion cubic meters). China can count on 75% of gas.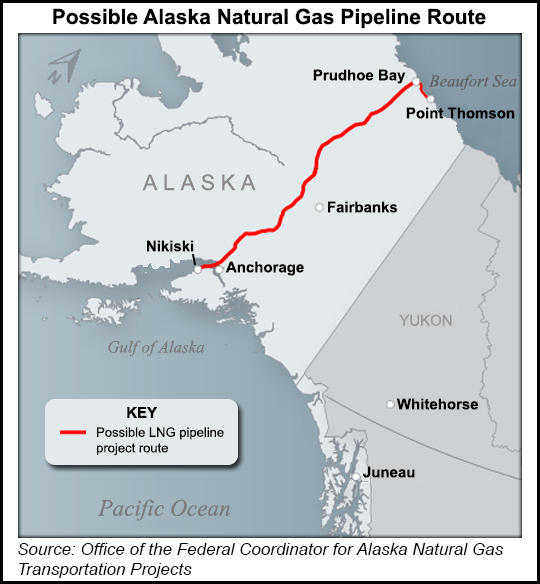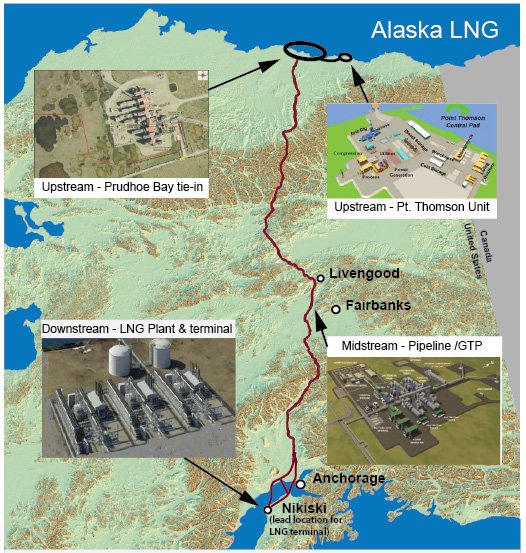 The joint development agreement was signed by the State of Alaska, AGDC and three of the largest Chinese energy and finance companies—Sinopec, Bank of China and China Investment Corporation.
"This agreement has all five necessary signatories—the buyer, the lender, the investor, the developer and the state," Alaska Government Bill Walker said.
Deputy Director of ACRA (Analytical Credit Rating Agency) Vasily Tanurkov says the LNG project in Alaska cannot be considered an alternative to Power of Siberia, since China does not choose between various energy sources and always seeks several. "It will never tolerate dependence on one supplier," the expert says.
Igor Yushkov, a senior analyst at the National Energy Security Fund, says Australia, Qatar, Turkmenia will keep supplying their LNG to China along with U.S. and Russia…
Besides, LNG project in Alaska is yet to be implemented. As Alaska Governor Bill Walker said, "There are more steps before a final investment decision is reached." Nevertheless, the project has already had a positive impact of Donald Trump's image. Trump has promised to develop energy inside the country and create new jobs.
"This agreement will provide Alaska with an economic boom comparable to the development of the Trans-Alaska Pipeline System in the 1970s," said Governor Bill Walker. In his words, 12,000 jobs will be created during the project implementation in Alaska.
In early November, Chairman of Gazprom Board of Director Alexey Miller travelled to China together with Prime Minister Dmitry Medvedev. Miller warned that the country may face a gas deficit. "We can see that gas consumption in China increased for 18 percent to 168 billion cubic meters in Jan-Sept and in absolute terms the growth totaled 26 billion cubic meters," Gazprom CEO said. He forecasted gas deficit in China as early as this heating season.
The country currently consumes a little more than 200 billion cubic meters of gas a year, of which 40% is imported. By various forecasts, by 2020, China may need as much as 260-300 billion cubic meters of gas. The country plans to cover the deficit partially through the growth of shale gas recovery. Will China need additional projects from Russia – Power of Siberia 2 and supplies from Sakhalin-Khabarovsk-Vladivostok gas pipeline?
ACRA Deputy Director Vasily Tanurkov assumes that the consumption growth in China will depend first of all on Beijing's actions to shift from coal to gas. "This, in turn, depends on gas price," the expert says. He thinks that at some point suppliers in China may not be able to satisfy the growing demand. Nevertheless, it will be possible to speak of the growth prospects and two additional Russian projects after 2019, Tanurkov says.
So far, comparing the price of Russian pipeline gas in Europe and the cost of LNG in Asia, the Russian gas turns our cheaper for 30%. "This is not the limit," he says.
Igor Yushkov, a senior analyst at the National Energy Security Fund, believes that American LNG is more expensive for China now than the Russian pipeline gas is. So, Beijing needs projects like the one in Alaska or Yamal LNG. "China will be refusing from spot purchases in favor of the projects it is involved in and controls the entire chain: from recovery to liquifying and transportation, like Yamal LNG in which CNPC and Silk Road Investment Fund hold shares. Presently, the cost of LNG from U.S. comprises the margin of all the companies involved in the chain. China's involvement in the project will help reducing LNG cost and making it more competitive," says Yushkov.