The West marked the three-year siege of Syria's Deir-ez-Zor in its own way. Although there are no solid evidences, the Office of the UN Higher Commissioner for Human Right has published a Report saying Damascus was behind April chemical attack in Khan Shaykhun. The scandalous While Helmets that allegedly save Syrians after bombardments by the government and Russian forces received another international peace award by Tipperary Peace Convention, an Irish organization. Furthermore, today Israeli Armed Forces attacked the facilities near Masyaf in central province of Hama. According to Haaretz, the fighter planes allegedly attacked a chemical weapon producing plant and a research center.
The "information noise" around Syria should have overshadowed the news on the government troops' breakthrough into the sieged city. However, that operation was as important moment in that six-year-long war as liberation of Aleppo. The West's response reflected the coalition's frustration. After all the United States' actions in Syria proved less successful than the support of Moscow and Tehran to Damascus.
What will liberation of Deir-ez-Zor bring?
On September 5, after massive air strikes on the Islamic State's stronghold, a terrorist organization banned in Russia, the Syrian Army broke the siege into Deir-ez-Zor. EADaily has reported about that operation earlier.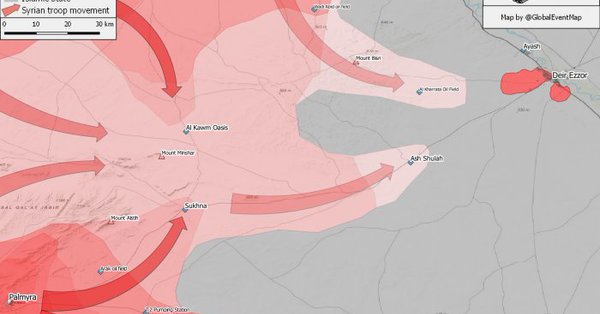 Currently, ISIS militants are trying to win back their positions and break into the city, but the government troops are holding the line and trying to expand it. It is early to say that the region is fully under control, but this will happen eventually. For Damascus, that operation means that the government-controlled territories have embraced almost half of Syria. "75% of the country's population live there," a pro-governmental blogger The'Nimr'Tiger wrote.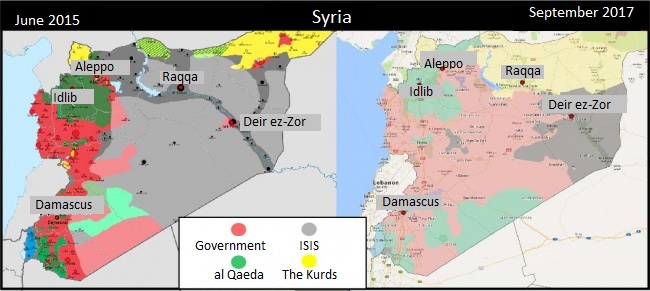 As compared to the situation we witnessed two years ago, colossal changes have been made. Then "moderate" opposition groups were preparing to attack the shore of Latakia northern province, Damascus controlled some 20% of the country's territory, and experts were guessing how many months were left to the "regime." After Russia launched air operation in the autumn of 2015, the power balance started to change. With the support of Russia and Iran, Damascus managed to not only suppress the opposition and the Islamic State in the center of the country, but also liberate the northern metropolitan city Aleppo – citadel of Jihadists. Deir-ez-Zour has become an evident phase of Bashar al-Assad's successes. That large dessert province is rich in oil and gas deposits and there are no longer big settlements behind the city up to the border with Iran, so there are no obstacles to launching an offensive. Breaching the siege in Deir-ez-Zour, the government troops changed the status quo in Syria.
Where does Syrian opposition "go"?
"Moderate" opposition has the worst positions in Syria now. Turkey and the Persian Gulf countries are trying to reformat it now. A congress of militants was held in Gaziantep, Turkey, where establishment of a new united National Army was announced. Yet, it is not clear how it will change the situation. The U.S. controls the groups in the south, which held Damascus and Iranian volunteers from attacking. In addition, as many bloggers write today, militants of several groups were reluctant to yield to Jordan that demanded them to leave and return the distributed weapons. "The last Syrian rebel groups in Syria's southeastern desert leave their home country for Jordan. The territory will be controlled by al-Assad soon," German journalist Julian Röpcke wrote. Washington dismissed the talks about "retreat."
According to Al-Akhbar Lebanese newspaper, representatives of groups from eastern Kalamun region, eastern outskirts of Damascus and Syrian-Jordanian border, even met with Russia's representatives to have their regions included in the treaty of demilitarization zones. Another region of "moderate" opposition, the northern province of Idlib, where it is losing the fight against Syrian Al-Qaeda, Hayyat Tahrir al-Sham group. We have already written before about how AL-Qaeda militants aggressively swallow up groups of militants. Another large group, Turkey-controlled Ahrar al-Sham, is fighting Al-Qaeda, though it hesitated to war openly yet not so long ago. As a result, part of the Jihadist-leaders have joined Al-Qaeda. One of Ahrar leaders heads the group.
Last week, Hayyat Tahrir al-Sham destroyed Al-Zenki militants known to enjoy U.S. support. Jihadists beheaded a Palestinian boy and posted the video footage on the web. With the confrontation between Al-Qaeda and "moderate" opposition, Al-Zenki joined Al-Qaeda, but decided to leave it last week. Afterwards, part of the militants were destroyed and their weapons, including TOW, U.S. anti-tank missiles, were seized.
Charles Lister, a senior fellow at the Washington-based Middle East Institute, writes the situation is critical for "moderate" forces. "Action is needed to save Idlib before it's too late," he writes. He is sure that the countries like Turkey, which controls a not large territory in the north of Syria should act, otherwise Syria, Russia and Iran will liberate Idlib. It will be impossible to say anything against it. Syrian Al-Qaeda has been internationally recognized as a terrorist group.
▼ читать продолжение новости ▼
"Moderate" opposition can feel safe only on a not large area in the north of Syria that is controlled by Turkey after the Shield of Euphrates operation.
What is about U.S. and its allies?
U.S. and the coalition has strong positions in the north and northeast of Syria controlled by Kurds. With the support of the coalition, Kurds are now liberating ISIS' capital city, Raqqa, and the battle has turned into slaughter as it was in Iraq's Mosul. The city is being ruined. Pentagon's draft budget for the next year envisages training and arming of "Syrian Democratic Forces" led by Kurdish YPG, which means that U.S. supports them. Ankara will hardly like that, since it had been against operation in Raqqa from the very beginning and insisted that Kurds have no place in Syria's east. Experts say U.S. is going to get control over the entire eastern bank of Euphrates, though the government troops' breaking into the sieged Deir-ez-Zour may spoil Washington's plans. Blogger Monitoring has posted photos on Twitter where one can see convoys with pontoon boats, motor boats and equipment to move across water obstacles.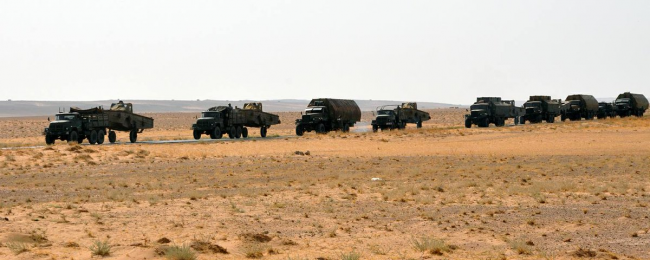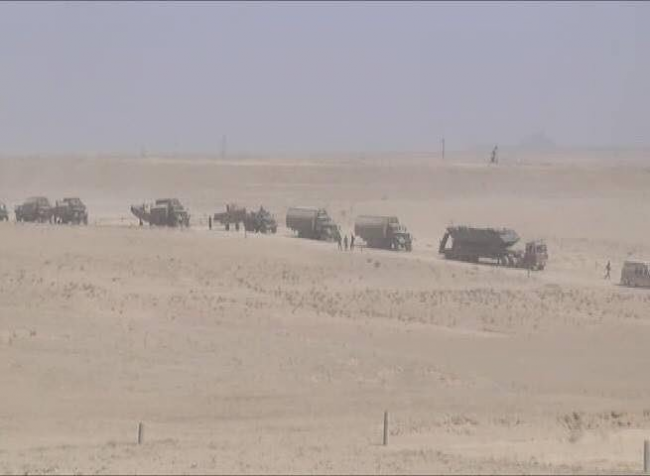 This means that Euphrates' eastern bank that is rich in oil deposits is still controlled by ISIS and it may happen that government troops will manage to gain control of it.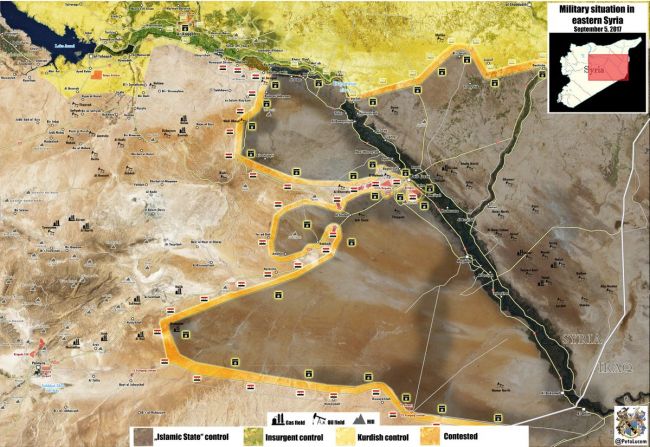 SDF and government troops have not been confronting with each other under recently. They have a common enemy – Turkey, Near East Policy's Andrew Tabler told the Wall Street Journal. It will become evident soon whether it was true, he said. Political quarters in U.S. weigh a soft division of Syria along Euphrates as it was along Elba at the end of the World War II. This time Americans go from the East and Russians – from the west, Tabler said, adding that Damascus and Iran seek a full victory. He is sure that Damascus will not tolerate Kurdish autonomy and the shared influence of U.S. and Russia on Syria will be of temporary nature, as conflicts will broke out one after another.
Monzer Akbik, a leader of the mostly Arab Tayyar al-Ghad party that is closely allied with SDF told WSJ that after breaking the siege of Deir-ez-Zour, the government troops "will be able to go to al-Bukamal, and once al-Bukamal is taken, the Iranians will have achieved an uninterrupted land route from Tehran to Baghdad to Damascus to Hezbollah in Beirut."
Charles Lister, a senior fellow at the Washington-based Middle East Institute, writes in a tweet: "#Aleppo + #Russia-led de-escalation + US disinterest in opposition movement = Near-perfect solution to #Assad manpower problem." Experts believe that Israel's stance impedes efforts to settle the Syrian crisis. It is not happy with presence of Iranian troops in Syria and their expansion in the south together with government troops. "Israel will not tolerate Iranian control over Syria," David Lesch, Professor of Middle East History at Trinity University in San Antonio, wrote in his article published in the New York Times. "The result will inevitably be a Syria-Israel war, which would really mean an Iran-Israel war, one that would not be limited to Syria."
"Strategic balance in Mid East is good for Israel. Shiite north against Sunni south. Arabs fragmented. Turkey against Iran, against KSA. Egypt is weak," writes Joshua Landis Director of the Center for Middle East Studies at University of Oklahoma. The experts doubts that Iran has deeply penetrated into Syria. To substantiate his views, the expert brings at once several arguments: "Iran has been granted few economic opportunities in Syria. Russians have benefitted more from few economic opportunities Syria has to offer." "Good argument can be made that Russia and not Iran is main Syria backer. More Russian troops are in Syria, more power, more important support. In international negotiations, the Syrian government has delegated authority to the Russians, not Iran. Astana, deconfliction zones, etc…"Landis writes recalling that "Iran has been frustrated with Syrian lack of responsiveness. Cut off oil supplies for a while."
Joshua Landis is sure that Bashar al-Assad fear coup. "In Syrian government, no one lasts long if they are perceived to be Iran's man or Russia's man. Everyone must be Assad's man."
Anyway, the Syrian "knot" appears to have been loosen slowly despite the big number of geopolitical players involved and difference of their interests. Things are so far in favor of Damascus and Moscow, though no one thought it could happen yet two years ago.