Gazprom has undertaken new gas supply commitments in Europe and can gain profits rather than experience losses, experts say.
Today, on March 13, the European Commission (EC) announced that the Russian holding submitted proposals to address an anti-monopoly investigation launched since 2012.
According to the Commission, "Gazprom's commitments address competition concerns as regards gas markets in Central and Eastern Europe. The commitments will enable free flow of gas in Central and Eastern Europe, ensure competitive gas prices in Central and Eastern Europe." As regards South Stream, the Commission says, "Gazprom has committed not to seek any damages from its Bulgarian partners following the termination of the South Stream project. If a company breaks such commitments, the Commission can impose a fine of up to 10% of the company's worldwide turnover, without having to prove an infringement of the EU antitrust rules."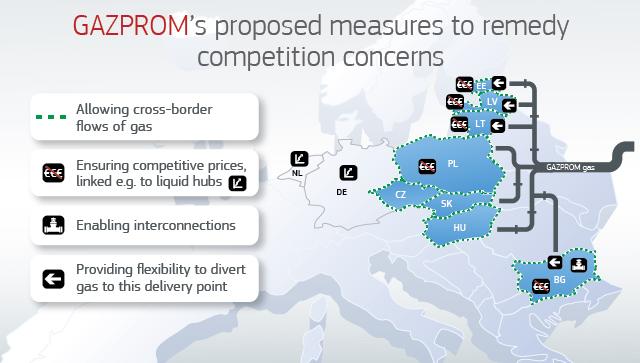 Commissioner in charge of competition policy, Margrethe Vestager, said: "We believe that Gazprom's commitments will enable the free flow of gas in Central and Eastern Europe at competitive prices. They address our competition concerns and provide a forward looking solution in line with EU rules. In fact, they help to better integrate gas markets in the region. This matters to millions of Europeans that rely on gas to heat their homes and fuel their businesses."
The EC suggested customers and other stakeholders to carefully consider the commitments within seven weeks after they are published.
In April 2015, the European Commission sent a Statement of Objections "expressing its preliminary view that Gazprom had been breaking EU antitrust rules by pursuing an overall strategy to partition Central and Eastern European gas markets. (Bulgaria, the Czech Republic, Estonia, Latvia, Lithuania, Poland, Hungary and Slovakia)." The commission claimed that Russia company imposed "restrictions that prevent its customers from re-selling gas they have bought across borders, or make it economically less attractive for customers to do so."
Besides, the commission deemed unfair that has prices depend on oil price. High prices of oil made gas prices high too. However, now, due to the prices tied to the oil basket, the Russian gas has been cheaper than on regional European stock exchanges for about a year already.
▼ читать продолжение новости ▼
Alexey Grivach, Deputy Director General of the National Energy Security Foundation, says that with its statement the commission admits that Gazprom made no price manipulations and did not make any real restrictions of gas supply to Europe.
"In addition, on many markets, reverse flows contributing to integration emerged in 2012 and that fact is mentioned in the commission's documents. However, the commission tactically hushes up that Nord Stream was launched then," the expert says. Alexey Grivach says Gazprom is not guilty that infrastructures of Bulgaria and Baltic States are not connected with liquidity markets in Europe.
The expert is sure that Gazprom's commitments to address the commission's concerns will not just weaken its positions in the European market, but bring some benefits too.
"First and foremost, if the investigation is stopped, there will no longer be any threat of a fine and of comprehensive trials between Gazprom and the commission," Grivach said. "Naturally, it would impede business. Considering that the goal is to create a single market of gas in EU, free flow of gas will change nothing. In some cases, it may be a plus. Suppose that Lithuania will buy Russian gas not from Gazprom, but from Poland's PGNiG. The Russian exporter will sell the same volume and receive the rate for swap too. Lithuania will have no reasons to complain on its dependence on Gazprom, though it has not been restricted before either."
The expert sees another quasi-concession of the European Commission - in case oil prices hike and trigger a growth of gas prices under contracts, these countries may initiate talks for revision of the contract terms. "Since, no oil price hikes are anticipated for the mid-term outlook, this option is hypothetical," Grivach says.
He thinks Russia would hardly go into litigation with Bulgaria over termination of South Stream: "At least, there were no statements to that end. Gazprom's losses from termination of the project have been minimized due to reorientation at the Turkish Stream."
Commenting Gazprom's refusal from Bulgaria's claims, head of East European Gas Analysis consultancy Mikhail Korchemkin says the Turkish Stream looks to reduce transit of the Russian gas via Bulgaria dramatically. "Can it be considered an indirect 'punishment' for refusal from South Stream?" the expert asks. Turkish Stream is not a punishment, but an alternative solution to tasks. Bulgarians have robbed themselves and lost benefits from the project, Alexei Grivach told EADaily.