The construction of the first string of Turkish Stream is near completion. Pioneering Spirit has just 85 km to lay till the Turkish coast, according to Marinetraffic. The ship is supposed to reach the final point on May 13. But if its maintains its current speed of 4.5 km a day, it may be there earlier, according to Gazprom's CEO Alexey Miller.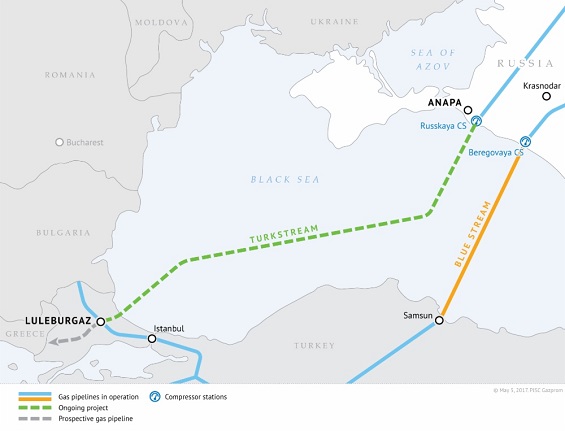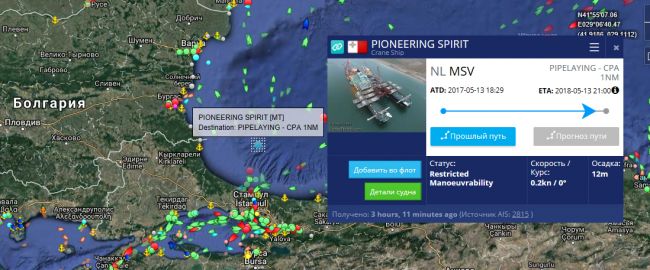 "Everything is going according to plan… to date, 1,047 kilometers [some 650 miles] have been laid, which is 55 percent of the total length of the offshore section of the gas pipeline," Miller told reporters in Turkey. "As to the first leg, 827 kilometers have been built and in the first ten days of May we will finish the construction of the first leg of the pipeline. What remains is to build a receiving terminal and the second leg, so everything goes according to plan," Miller said.
The first string of Turkish Stream will have a capacity of 15.75bn c m a year and is supposed to supply gas directly to Turkey. Presently, the country receives Russian gas through Ukraine, Romania and Bulgaria. The first string is supposed to be commissioned in 2019 and to reach its full capacity in 2020, when Gazprom's contract with Naftogaz of Ukraine expires.
The second string has just reached Turkey's economic zone in the Black Sea. It is also supposed to be finished next year and will supply gas to the south of Europe. Its route has not yet been determined. Russia's Energy Minister Alexander Novak said that it may run through Bulgaria, Serbia, Hungary to Austria or through Greece to Italy. Much will depend on the EU's attitude. As you may remember, it was that attitude that wrecked Gazprom's South Stream project in Bulgaria.
"We are now building two legs of the offshore section and will soon start building the onshore section. This is supposed to satisfy the needs of Turkey's gas market and will enhance the country's energy security," Russian President Vladimir Putin said in Turkey.
Concerning Ukraine, Miller said: "We are not saying we will stop entire transit via Ukraine, since there are neighboring countries that border Ukraine on the side of Europe. Naturally, supplies to these European countries will continue via Ukraine. But the volumes of such transit will be much lower, probably, ten to fifteen billion cubic meters a year."
Turkish Stream will be a big blow on Ukraine. "For Ukraine, the implementation of this project will have a negative impact, not as great as from Nord Stream, but the loss of about 15 billion cubic meters of transit from current 70 billion cubic meters is a very large figure," CEO of Naftogaz Andriy Kobolyev said. Last year, Ukraine earned $3bn from the transit of Russia gas. Nord Stream 2 and Turkish Stream will cut this sum by 4-5 times.
Gazprom already has one pipeline to Turkey, 1,213 km long Blue Stream, built in 2002. Last year, that pipeline pumped almost 16bn c m.