As Iraqi Kurds' neighbors, Baghdad and Tehran, push back against the September 25 independence referendum of Iraqi Kurdistan, Ankara shows even stronger militant response. There was a time when Turkish leadership openly flirted with Kurds in Erbil to spite Iraqi government in Baghdad. Turkey and its president-for-life Recep Tayyip Erdogan have mood swings again. This time, things are not in favor of Iraqi Kurds who have claimed statehood recently.
Ankara is driving to a military resolution of the political crisis between Baghdad and Erbil trying to use the extremely tense situation in the north of Iraq. In December 2015, an armed conflict was due to broke out between Turkey and the federal government of Iraq. Turkish army battalion backed with armored vehicles crossed the border with Iraq in the proximity of Nineveh Governorate and settled in Bashika camp in northern Iraq. Baghdad demanded immediate withdrawal of Turkish troops from its territory calling Ankara's actions unauthorized. The latter, in turn, said they had an arrangement with Erbil to train Kurdish armed groups "Peshmerga" at Bashika camp to fight Daesh terrorists (Islamic State, ISIS, ISIL).
Yet two years ago, Erdogan ignored Baghdad's sovereignty over the entire territory of Iraq. However, when Kurds held independence referendum, he became "an outspoken supporter" of territorial integrity of the "united and indivisible Iraq" that no longer exists de-facto.
Then and now, more than ever, Turkey's leadership and military command seek to drive a wedge between two Kurdistans: Iraqi and Syrian. They chose the area "to drive the wedge" maximum close to Iraq's Sinjar where along with Erbil's "Peshmerga" there are still strong positions of Kurdistan Workers' Party (PKK), the key rival of Turkey in the region.
In December 2015, Ankara just weighed up the possibility of pulling troops to Sinjar to fight ISIS. The previous U.S. Administration did not permit Ankara to do that. Neither has Donald Trump's Administration welcomed Ankara's anti-Kurdish plans. However, Turkey is not going to limit itself to driving only one "wedge" into the entire Kurdish line from the northwest of Syrian Aleppo province (Afrin Canton) up to Erbil and Iraq's Diyala Governorate bordering with Iran. They "drove that wedge" in the north of Syria during Operation Euphrates Shield (August 2016 – February 2017).
U.S. is deterring Turkey from invading Sinjar and other regions in the north of Iraq. On the Syrian front of fighting Kurds, Turkey has faced two apparently impassable obstacles: U.S. military bases in the east of Syria and Russian forces at the foot of Afrin and inside the Kurdish enclave.
Intervening into Iraq, Turkish army will cause an unprecedented damage to the relations with Washington. Operation Euphrates Shield obviously demonstrated Turkey's limited capacity to go deep into the territory of the enemy and gain foothold there. Besides, no transboundary military operation against a strong and motivated rival is possible today unless it is backed by intensive airstrikes. Turks successfully fought ISIS terrorists using Free Syrian Army militants as "cannon fodder" within 6 months (Operation Euphrates Shield continued from August 24 up to February 24), but they have no serious chance to do it in Iraq. U.S. will not allow any large-scale airstrikes on "Peshmerga" targets in Sinjar or elsewhere in the north of Iraq.
Nor has Haider al-Abadi's government in Baghdad had any intention to involve Turkey into military scenarios of fighting Kurdish separatism. Iraq's prime minister, who is commander-in-chief of the country's armed forces, announced immediately after the referendum that there would be no military confrontation with Erbil. Al-Abadi confirmed his stance also during his visit to Paris on October 5, after President Emmanuel Macron suggested mediation between Baghdad and Erbil.
Turkey's General Staff is not happy with possible direct clash with Kurdish "Peshmerga," part of which is well armed, highly motivated and trained by American instructors. So far, hasty steps may have unpredictable consequences for Ankara. Turkey has to console itself with bellicose statements of its politicians. Joint exercises with armed forces of Iraq and Iran along the border with Kurdistan is perhaps the only opportunity for Ankara to satisfy its anti-Kurdish military ambitions so far.
Turkey has what to lose in economy field too. No matter how intensively Turks speak of their potential to "suffocate Kurds economically" in the north of Iraq, things are not that clear.
During the previous period of Ankara's "friendly" relations with Erbil (at least, recall the visit by Masoud Barzani, the current leader of Iraqi Kurdistan, to Turkey where this February he was received as foreign minister (1)), Turks used to receive much more than they gave when directly developing trade and economic ties with Kurds ignoring Baghdad's demands to deal with Kurds only with their prior consent. About 550,000 barrels of Iraq's/Kurdistan's oil was pumped through Kirkuk-Ceyhan pipeline to the Turkish port daily. 400,000 barrels of the total were pumped directly from oil fields in Kirkuk, a disputed territory in the conflict of Baghdad and Erbil. Oil-bearing Kirkuk is not located within the administrative borders of Iraqi Kurdistan. However, "Peshmerga" is still there and throughout the Kirkuk province since 2014. The September 25 independence referendum overtook the disputable area.
Turks used to receive cheap oil from Kurds and literally flooded Iraqi Kurdistan with their commodities. The commodity turnover with Erbil was more than impressive and Ankara gained much more from it than Kurds did. The commodity turnover for 2016 was about $7 billion and is anticipated to reach $14 billion this year. For comparison, the commodity turnover of Turkey and Iran, two countries having a common border and two major economies in the region, is only $10 billion.
Well, Turkey has little chances to improve its geopolitical disposition in Iraq. What about their chances to prevent establishment of Kurdistan in Syria? Not better than in Iraq, though Turkish tanks are still deep in the territory of Syria's Aleppo (Al-Bab-Azaz-Jarabulus triangle) and not going to leave it.
On October 7, Erdogan announced a "serious operation" in Syria's Idlib province, which along with its neighbor districts of Aleppo, Hama and Latakia provinces was defined by Russia, Turkey and Iran as one of the four de-escalation zones. According to the Turkish leader, the troops have not been deployed to Idlib yet, the Free Syrian Army launched the "serious operation." Reliable sources in Turkey say Ankara is due to deploy 300-500 troops in Idlib city. (2)
Turkey had pulled additional forces to its southern provinces of Kilis and Hatay throughout September. Pro-governmental media anticipated rather a large-scale operation in Idlib. For instance, Yeni Safak reported deployment of 25,000 (!) troops to Idlib on the first days of October from Hatay Province.
Like during Operation Euphrates Shield, Erdogan is not going to send his "peacekeepers" to the frontline. Jihadist alliance Hayat Tahrir al-Sham led by terrorist group Jabhat Fateh al-Sham (former Jabhat al-Nusra) "sets the tone" there. Pro-Turkish group Ahrar al-Sham evidently yields to competing Islamic militants from Hayat Tahrir al-Sham. If Turkish troops enter Idlib now, it may occur in the epicenter of attacks by Syrian Al-Qaeda. The mission to separate "moderate" militants from radical ones who does not recognize either de-escalation zones or any other agreement signed by Russia, Turkey and Iran, does not seem attractive to Erdogan and his generals. This will cost Turkey big casualties with obscure prospects of performing the mission. To perform it, Turkey needs to destroy Hayat Tahrir al-Sham and its terrorist group Jabhat Fateh al-Sham. This will cost Ankara too high. That is why it gave the way to Free Syrian Army "rebellious infantry."
In case of any developments around Idlib, the prior task for the Turkish leadership is to settle the problem of Kurdish militia in Afrin. So far, Turkish troops have been just firing at Kurdish militia YPG from long-range artillery from their territory since the end of Operation Euphrates Shield in February and before that.
Certain obstacles have emerged for Turkish Army in that area too. In early September, Russian Armed Forces General Staff announced deployment of military police subdivisions into the de-escalation zone in Afrin (area in proximity of Tell-Rifaat). To prevent possible provocations and maintain the ceasefire, two check points and four watchpoints of Russian troops were installed there.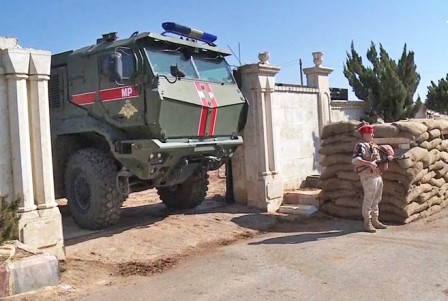 Turkey's intervention into Afrin Valley is no longer possible. Meantime, Turkey has pulled engineering units to Azaz and Al-Baba regions to help Free Syrian Army militants overcome separate water barriers, in case of an order to intervene into the Kurdish enclave.
The situation around Afrin and Idlib is so far within certain balance of interests of Russia and Turkey. Moscow hinted that it will not abandon Afrin Kurds. A similar signal came from Washington as well. U.S. marines have been deployed in Syria's Manbij since past spring as a barrier between Turkish army and Kurdish militia. Actually, Turkey's "wedge" driven into Syria's Kurdistan (Jarablus-Azaz-Al-Bab triangle) appears to be sandwiched by Russia in the northwest of Aleppo (Afrin Valley) and U.S. in Manbij in the northeast of Aleppo.
Neither Russia nor U.S. wants to brush Turkey off. Moscow has found a dialogue with Turkey, unlike Trump's Administration. They agreed that Russia will be striking Syrian Al-Qaeda targets in Idlib, while Turkey will be preparing a land-based operation in the de-escalation zone with the support of Free Syrian Army. Russian airstrikes have weakened Jabhat Fateh Al-Sham leadership, and this may help Erdogan's "serious operation" succeed. It is hard to foresee what will happen after a while, when pro-Turkish militants face first failures in Idlib. Turkey has undertaken the hardest part (land-based operation) of the mission to mope up the de-escalation zone. Let's wait and see how it will cope with that.
Erdogan showed that his "friendship" with Iraqi Kurds was deception. The fate of Syrian Kurds would be evident, if they clashed with the Turkish army directly. Now Kurds neither in Syria nor in Iraq wish success to Turkey. Any failure of the outspoken opponent of Kurdish statehood will increase the chances of such inevitable processes as establishment of Iraqi and Syrian Kurdistans.
(1) Leader of Iraqi Kurds was received by Turkish President and prime minister in February 2017.
(2) Metin Gurcan, Turkey's military options in Iraq and Syria hinge on US and Russia // Al Monitor, October 2, 2017.
EADaily's Middle East Bureau