With no conspiracy and clear prospects: they still promise to pull Caspian gas to Europe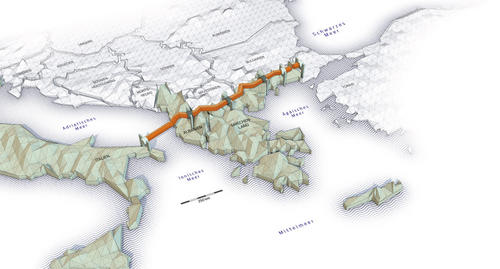 The Trans Adriatic Pipeline (TAP) project was launched in Thessaloniki on May 17 2016. It is supposed to be the last part of the Southern Gas Corridor, the EU's alternative to Russian gas. The goal of this project is quite ambitious – to launch a big Shah Deniz 2 field in the Caspian Sea and to pump Azerbaijani gas via Georgia and Turkey to Greece, Albania and Italy. The total length of the pipeline is 3,000 km, the cost of the project is $45bn. The pipeline is to be commissioned in 2020 and to pump 10bn c m a year. 6bn c m more is to be supplied to Turkey. The key parties to the project are Azerbaijan, Turkey and BP of the UK. As of today, only one of the four part of the Southern Gas Corridor, more specifically, the South Caucasus Gas Pipeline, is ready.
According to BP, Shah Deniz 2 is just 70% ready. The Trans Anatolian Gas Pipeline (TANAP) and TAP projects have just been started. The former is to be ready in 2018, the latter in 2019. Experts are mostly skeptical about the Southern Gas Corridor project. It has already been postponed several times because of high costs and was reanimated only recently when the EU and Turkey spoiled their relations with Russia. Together with experts, we have tried to answer the key questions concerning this project.
1. How practicable is a $45 billion worth project?
Its biggest problems are financing and profitability. A few years ago, everybody was talking about Nabucco and where is it now? TANAP and TAP are just new versions of the Southern Gas Corridor and there are lots of questions about it, Alexander Pasechnik, Head of the Analytical Department of the National Energy Security Fund, told the Energy Expert Fund. The expert doubts that this project has any commercial sense. "Even in 2010-2013 when gas was expensive, the Europeans did not invest much in pipelines. This year gas costs no more than $180 per 1,000 c m. But infrastructure is still expensive. Even if there is some cut in estimates, it does not exceed 10-15%," Pasechnik said.
The slump of oil and gas prices has become a big blow for Azerbaijan and its SOCAR company, the biggest shareholder of the Southern Gas Corridor. In TANAP Azerbaijan holds 58%, in TAP 20%. The projects cost over $14bn and SOCAR has to pay almost half. They have no such money and will have to borrow.
"The TANAP project has no financial problems," says the head of SOCAR's investment unit Vagif Aliyev.
It is hard to say if he is true or not but it is a fact that this project has not received all the funds it was supposed to receive. In July the World Bank is going to give Turkey $1bn. It is not yet clear when the European Investment Bank will provide its $1.12bn loan. Nor is it clear if the remaining $8bn are available. The only thing the parties to the project say is that it is 20% ready and that 1/3 of tenders have already been conducted. The same is true for the TAP. A day before the project's launch, its Managing Director Ian Bradshaw said that it will be sponsored by international organizations and commercial banks. The EBRD is expected to give just $1.5bn.
Shah Deniz may also be a problem. Last year SOCAR asked Gazprom to sell it 2bn c m a year. In May 2016 the company's CEO said that they are ready to buy 3bn-5bn c m. So, the Azerbaijanis may well be short of own gas. And they may as well be short of money. Recently SOCAR asked the Asian Development Bank to lend it $1.5bn so it could manage its stake in Shah Deniz. The Iranians have refused to enlarge their stake in this project.
What the Southern Gas Corridor has in excess is political support. Just like the South Stream, this project is contrary to the Third Energy Package, but the EU has closed its eyes on this. The United States has proclaimed this project as one of its national security priorities, with John Kerry having even sent a congratulatory message to Thessaloniki.
"TAP project will create a condition for access of new gas to European market," said the letter delivered by the Special Envoy and Coordinator for International Energy Affairs at the US Department of State Amos Hochstein to the participants of the TAP groundbreaking ceremony.
It is not clear if this will help the project to pay off or not but, for example, Nord Stream costs as much but can pump six times as much gas as TAP. And it was built in just two years.
2. What an influence will the Southern Gas Corridor have on Russian gas supplies?
As production in the EU is declining. According to Eurogas, in 2018 Europe will produce just 200bn c m and will be short of 200bn c m. In 2035 it may need as much as 400bn-600bn c m.
So, 10bn c m will hardly have any effect on Gazprom's position. Secretary General of the Gas Exporting Countries Forum (GECF) Seyed Mohammed Hossein Adeli is of the same opinion. In an interview with Izvestiya, he said that Azerbaijani gas supplies to Europe will begin no earlier than 2022-2025, while the supplies of Iranian gas may start even later. So, according to Adeli, these sources will have just a couple of per cents in Europe's total consumption. Today, Russia supplies 31% of the gas consumed by Europe (158bn c m in 2015). Even if TANAP and LNG spot supplies are launched, this share will shrink to 25-28% at smallest. So, Russia will retain its dominance on the EU gas market.
On the other hand, the Southern Gas Corridor may become the first dig at Russia. Today Azerbaijan, the EU and the US are persuading Turkmenistan, Israel and Iran to join the project. If they do, the pipeline will be able to pump as many as 31bn c m a year. But the Turkmens are not ready to lay a pipeline via the Caspian Sea. The Iranians prefer Asian markets, while the Israelis are focused on their Mediterranean fields and domestic needs. So, for the time being this is the initiative of just a couple of European politicians. And the same is true for all gas projects bypassing Russia.
In his article in Expert, Konstantin Simonov, Director General of the National Energy Security Fund, says: "Even though energy is a commercial sector, they in Europe keep blaming Russia for politicizing it. The Europeans regard Gazprom as a dangerous supplier and keep pushing alternatives to it. The Americans keep telling them – 'Take any gas but Russian. Any other gas is better for you.' And there is no conspiracy here." 
EADaily's Fuel and Energy Bureau