There is no ISIL terrorist base in the Pankisi Gorge. This is how U.S. Ambassador to Georgia Ian Kelly commented on the statement made by the Russian foreign minister when visiting the region with Georgian President Giorgi Margvelashvili last week. A few days earlier, Prime Minister of Georgia Giorgi Kvirikashvili said there is no threat of terrorism in Georgia. To recall, Sergey Lavrov did not say that the Pankisi Gorge is back to early 2000s. Gangs of Chechen militants were hiding there then.
"We receive reports that ISIL militants are using this hardly accessible territory to train, rest and replenish their supplies," Lavrov said. In response to a follow-up question, the minister said that there were cases when terrorists were detained in the Pankisi Gorge and by the existing data, they dealt with ISIL. Are there the "Islamic State" militants in Georgia's Pankisi Gorge now? EADaily had a quick verification and found out that there are the ISIL supporters in the Pankisi Gorge and they feel good. Moreover, the local residents continue leaving for Syria and Iraq for "Jihad." Some of them return for some unknown reasons.
We used geolocation services and found more than ten people from the Pankisi Gorge and the Alazani River valley who post ISIL symbols and even pages from ISIL's Dabiq magazine on their profiles in social media. For instance, Umar Khangoyev. Judging by his pics, he has arrived in the Pankisi Gorge with a friend recently. Yesterday, he removed the ISIL flag image from his profile. However, we had time to copy his profile content.
It is impossible to view most of the profiles with ISIL symbols in social media. They are confidential. The ones that are accessible are full with Prophet's Hadiths and look the same as the profiles of those who recruit to ISIL and Syrian Al Qaeda. Women are among them. For instance, a resident of the Pankisi Gorge, named Alkhanova, writes, "Serving a sentence in vanities of the world!" She posts advertising images of militants from Syria. Another supporter of the ISIL posted a comment under the image of a mosque in the Pankisi Gorge saying, "It has become ours anyway!" It is not surprising, however. By different data, up to 200 people left Georgia for "Jihad" in Syria and Iraq. Most of them were from the Pankisi Gorge.
The most popular are two red-bearded leaders of Jihadists: Umar al-Shishani (Tarkhan Matirashvili) commands the ISIL troops, while Muslim al-Shishani (Murad Margoshvili) is the Emir of Junud al-Sham, an ally of the Syrian Al Qaeda.
▼ читать продолжение новости ▼
Recently, the Georgian government said the outflow of "volunteers" has slowed down dramatically. However, we have found quite a new recruit known in social media by nickname Boroda. His page on Instagram is decorated with images in front of the Pankisi Gorge. The images were posted yet three months ago. A few weeks ago, he posted a selfie in the desert. He is wearing a uniform on the pic. We found a fuller album of Boroda's travel to the Middle East in other social media. Another resident of the Pankisi Gorge, nickname Malik Hasanov, posted a photo with Boroda. They have their picture taken in front of a sports car in dessert with heavy guns. Later, we came across another profile of Boroda where he uses a nickname "Pankisskiy." On his profile picture, he is sitting at the table in an eastern-type room and there is a gun behind him. On other pictures, he is firing at positions or holding a toddler wearing a camouflage outfit. On these pictures, he checked in Raqqa, the current capital of the "Islamic State." It is interesting that Boroda's latest images on his official page on Instagram were taken in the Pankisi Gorge. He is walking barefoot on the snow and smiling in front of snowfields. Other Jihadists from the Pankisi Gorge plunge into nostalgia for the motherland in their comments. Meantime, Boroda is back.
What is he doing in the Pankisi Gorge now is not clear. Neither has it been clear why advertisements of a rest in the Pankisi Gorge have appeared on the web recently. For instance, on his Instagram page, certain bearded Abdul Gafur offers dozens of mansions to have a rest in and snow-covered mountains to walk around. In his offers, he is addressing tourists from the Middle East, as the advertising is in Arabic only. Every of the mansions he offers can accommodate a group of 5-10 militants with families.
Perhaps, Russia has another reason for concern in the Pankisi Gorge – refugees. Hundreds of Chechen families have moved to the Gorge that is located 6okm from Chechnya behind the ridge. From all appearance, some of them have moved for permanent resident, while others are waiting out something. At least, the youth is posting photos of the festivities of the non-existing "Independence Day of Ichkeria." Like many of the local young Muslims, these Chechen Kistinians love selfies holding up a single index finger on their right hands. It is no secret that this gesture symbolizing monotheism in Islam is used by the Islamic fundamentalists.
Salafi (Wahhabi) mosques are common in the Pankisi Gorge. The radicalized youth leaves for "Jihad" from those mosques. Yet in April, the Elders' Council of the Pankisi Gorge confirmed that fact and urged the authorities to stop the outflow of the Kistinian youth to Syria and Iraq. From all appearances, they have failed to do it. Our quick verification showed that ISIL's ideas in the Pankisi Gorge are 'alive' and the local residents keep joining the "Islamic State" and even returning to the motherland later. Why do they do it? Foreign Minister Sergey Lavrov was right when he said that danger is coming from the Pankisi Gorge.
A few weeks ago, Boroda was yet in ISIL, while now he is having his picture taken in the Pankisi Gorge.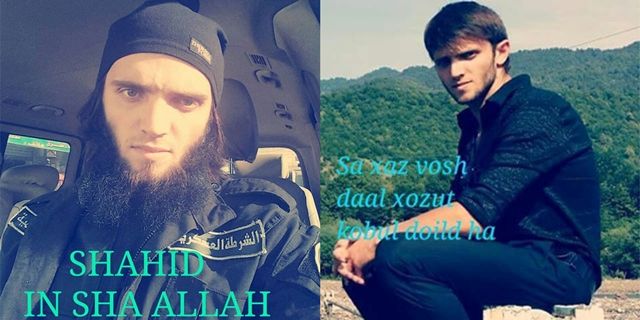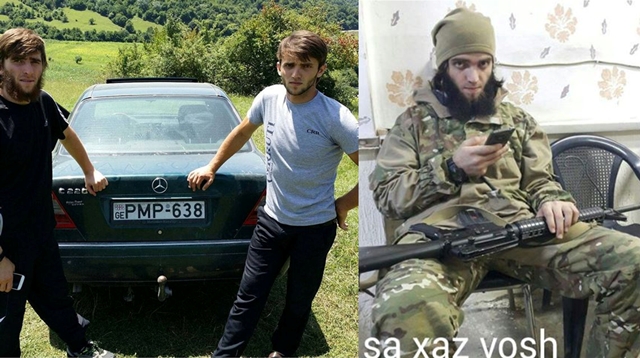 Malik Hasanov preferred the Syrian deserts to the scenic beauty of the Pankisi Gorge.