United States is attacking Russia's gas projects in Europe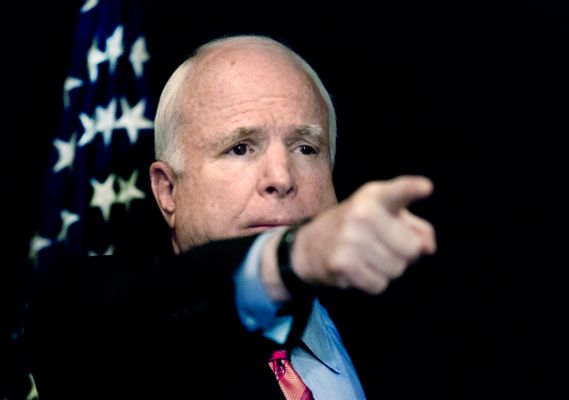 The United States is launching a new attack on Russia's gas projects in Europe. At first, ten U.S. senators, including "hawk" John McCain and former presidential hopeful Marco Rubio, sent a letter to President of the European Commission Jean-Claude Juncker, where they qualified Nord Stream 2 as a step back for Europe's diversification policy and Energy Union plans. The senators are also worried that this project may undermine the economies of Ukraine and Eastern Europe.
They are concerned that the resources invested in Ukraine's economy may prove ineffective. They also blame Russia for attempts to make the EU more dependent.
Since the greater part of Nord Stream 2 will run via the Baltic Sea, the senators urge Juncker to extend the effect of the Third Energy Package so that it covers the whole of the pipeline. This is the only way for Europe to curb the construction of its main part not taking into account its German section.
But this letter was not the Americans' only sortie against Russia's gas projects. A few days ago, Amos Hochstein, the US State Department Special Envoy and Coordinator for International Energy Affairs, was on tour in Europe. In Slovakia, he attended a meeting of the EU energy ministers. In Greece, he discussed the Southern Gas Corridor, an alternative source of gas for Europe – a pipeline that is supposed to pump gas from Azerbaijan via Turkey to Greece and Italy. In Greece, Hochstein also discussed the project to build interconnectors between Greece and Bulgaria, the most gas dependent EU member.
This all was a response to the progress recorded in Russia's gas policy in Europe. First, Slovakia agreed to take part in Nord Stream 2. Then, German Chancellor Angela Merkel pointed out the project's economic efficiency. And, finally, Bulgaria spoke up for resumption of the South Stream and Belene NPP projects.
"The Americans have never liked Russia's gas partnership with Europe as it limits their influence on the sides," says Alexey Grivach, Deputy Director General of the National Energy Security Foundation.
According to Igor Yushkov, senior analyst at the National Energy Security Fund, the senators have distorted the truth in their letter. "Russia is building new pipelines not so much for supplying more gas as for creating alternatives to Ukraine's gas network, while the Americans' goal is to drive the Russians back to Ukraine and to continue financing that country at Gazprom's expense. It is not a secret that Russian gas gives Ukraine billions of US dollars," Yushkov says.
One more reason is that American LNG is more expensive than Russian gas. "So, if the Americans manage to curb Russian projects, they will get a bigger niche in Europe. But this will make the European economy less competitive," says Alexey Grivach.
Experts cannot say what will prevail here – good sense or politics. "This is very much like the South Stream case, when McCain visited Bulgaria and convinced the local authorities to reject the project. But in the case of Nord Stream 2, the Americans will face a much stronger opponent than Bulgaria. Everybody remembers John Kerry's address to the Germans but the pressure is growing. On the one hand, this project is backed up by big European companies, on the other, it is opposed by the Americans," says Yushkov.
As regards the EU, it continues making the same statements on the project.
According to the European Commission's Deputy President of Energy Union Maroš Šefčovič, continued gas transit via Ukraine is the key prerequisite for pragmatic talks on Nord Stream 2.
Nord Stream 2 will be an enlarged version of Nord Stream. Its two lines are supposed to pump as much as 55bn c m a year. The preliminary cost of the project is $9.9bn. Gazprom's partners here are E. ON, BASF/Wintershall, Shell, OMV and ENGIE.
As regards Ukraine, last year Gazprom pumped through that country as much as 67bn c m or more than 1/3 of all of its gas exports. The company's CEO Alexey Miller says that they are planning to prolong their transit contract with Ukraine in 2019 but will cut the transit to just 10bn-15bn c m a year. This is enough for the company to meet the needs of the Balkans and Turkey should its southern route project fail. This pipeline may be built either via Bulgaria or Turkey but in both cases the Russians need guarantees from their European partners.