Refusing from Donbass coal, Ukraine has not only started buying more expensive coal from South Africa and U.S., but also become even more dependent on Russia. Despite its own threats, Kiev has not imposed embargo on supply of power generating coal from Russia, and Ukrainian companies have even increased imports. Eventually, without Donbass coal, the Russian coal appeared to be the best alternative both by quality and price.
Russia instead of U.S.
Referring to its sources at the Ukrainian government, Reuters reports that the coal deal of Ukraine's state-run company Centrenergo and U.S. Xcoal Energy Resources has warmed Petro Poroshenko's ties with Trump. During elections, Donald Trump promised to support the coal industry and the coal deal became good news, since coal consumption in U.S. is declining, as the country switches to gas and renewable energy sources.
"Ukraine already tells us they need millions and millions of metric tons right now," Trump said in a speech following his meeting with Ukrainian leader in June. "We want to sell it to them, and to everyone else all over the globe that needs it."
"As agreed with President Trump, first American coal has reached Ukraine. It is a significant contribution to our energy security and a vivid proof of mutually beneficial strategic cooperation between our two nations," Petro Poroshenko said in September, when the first bulker of American anthracite was delivered to Odessa. "While Russia continues to steal Ukrainian coal from Ukrainian Donbass, it has lost yet another tool for its energy blackmailing," Poroshenko said.
Nevertheless, by the end of the year, the Ukrainian state-run company chose just half of the contracted volumes – 410,000 tons of anthracite was delivered to Odessa out of total 700,000 tons. In total in 2017, 1.25 million tons of coal was supplied for thermal power plants from U.S. and South Africa that were supposed to become an alternative to Donbass and Russia. Instead, 4.49 million tons coal or 76% of total import of coal for TPPs were imported from Russia, according to the State Fiscal Service of Ukraine. 3 million tons of total 4.49 million was anthracite, said Maxim Khudalov, Head of ACRA Corporate Ratings Group.
According to Valentin Zemlyansky, Energy Programs Manager at the Center for World Economy and International Relations of Ukraine's National Academy of Sciences, for the time being, anthracite deficit totals 1.2 million tons and Ukraine has nothing to do but procure it from Russia. "U.S. extracts 2 million tons annually. Ukraine was a large player in the world coal market, exported raw materials. Blockade of Donbass has changed the entire market, including the Ukrainian one, as Russia has actively increased its share in it," the expert says. Poland is next to Ukraine, but it is short of coal and last year, Russia increased coal supply by one-third occupying over 10% of the market.
According to the Fiscal Service of Ukraine, last year the country's companies increased import of coal by 26% to 19 million tons. Russia accounted for 56% of monetary incomes from total export of coal to Ukraine ($1.5 billion).
One of the largest mining and metallurgical combines in Ukraine has recently announced it is switching to Russian coal. Chief Procurement Officer at ArcelorMittal Kryvyi Rih Girish Sardana told Metalurg corporate magazine the combine had to shift to the Russian market after the ban on procurement of raw material from ATO zone and due to high prices in the international market of coal and coke. "It was not easy, as we faced problems with shipment of raw materials from Russia due to sanctions imposed on some shipping companies. Despite all difficulties, supplies were not halted. There was another problem – Ukrainian railways did not provide the necessary number of carriages and locomotives, which resulted in interrupted supply of limestone from the west of Ukraine and decline in supply of this material to the enterprise," Sardana said.
According Deputy Minister of Energy of Russia Anatoly Yanovsky, export of coal from Russia was expected to increase for 8% last year. The main demand was from Asia-Pacific. High indicators were registered by the companies that supply anthracite to Ukraine as well. For instance, Russian Coal Company reported a 28% growth of export, Siberian Anthracite Company reported a 40% increase in sales. The company has not responded to EADaily's request concerning the growth of supplies to Ukraine.
Senior analyst of the National Energy Security Fund (NESF) Igor Yushkov points at a certain decline in energy consumption in Ukraine due to sufficient reserves of gas and the country's gradual shift from industrial to agrarian economy. Nevertheless, coal consumption for electricity generation in Ukraine is significant and despite threats and the program to shift TPPs to gas coal, the government has not stopped procurements from Russia. "I'd say this is a 'coal reconciliation' of Russia and Ukraine for winter time," Yushkov said.
Although Kiev has not banned procurement of anthracite from Russia, it has introduced special quotas for all the largest energy companies in Ukraine, except the government-run enterprises. The ban applied DTEK, Donbassenergo and TechNova Group.
Maxim Khudalov, Head of ACRA Corporate Ratings Group, says Ukraine successfully switches TPPs to gas generating coal instead of anthracite, which may result in failures of TPPs and more emissions of carbon dioxide. The coming three-four years will show the impact of these emissions, the expert says.
"Cheap" coal from South Africa and U.S. at the price of Russian high-quality coal
EADaily has found out the price and quality of power generating coal Ukraine imports from U.S., South Africa and Russia. The news agency has got access to bills of lading for December of 2017.
On December 18, Xcoal Energy Resources dispatched 64,000 tons of anthracite for 181 million UAH ($ 6.49 million at exchange rate of National Bank of Ukraine for that period). The cost per ton appeared to be $101.

On December 28, Odessa received the vessel from South Africa. Trader Glencore International AG delivered 28.7 thousand tons of anthracite for 81.55 million UAH ($2.9 million) to DTEK company. The cost per ton totaled $101.7.

Here is another bill of lading dated December 28. Sender – Russian Pecherskaya Mining Company LLC, recipient – Ukrainian Kryvyi Rih TPP. The weight is 37 thousand tons, the price is 12.35 million UAH ($441,000). The cost per tons is $119.

Earlier, on December 15, DTEK received anthracite from Russia for Prydniprovska TPP. Siberian Anthracite JSC supplied 3.1 thousand tons of coal for 10 million UAH ($359,000). The cost per ton was $116.

It turns out that Russian anthracite is more expensive than the American and South African coal, isn't it? Nothing of the kind! "Judging from the bill of lading, quality of coal supplied from U.S. and South Africa is poor. The difference between heat efficiency of the American and Russian anthracite is 1,000 and 2,000 kilocalories per kg (5417 and 8214, 6423, respectively). As for South African coal, its heat efficiency of 6163kcal/kg is evidently exaggerated, since its ash contents is too high – 26%. This indicator of the Russian coal is just 7%," says Maxim Khadalov. In his words, Russian companies sell coal of the same quality as that of U.S. and South Africa for some $80-$90 per ton.
The expert says, much depends on procurement volumes. At AliBaba global Chinese trading platform, Siberian Anthracite offers anthracite for $90-$120 per ton depending on the order volume.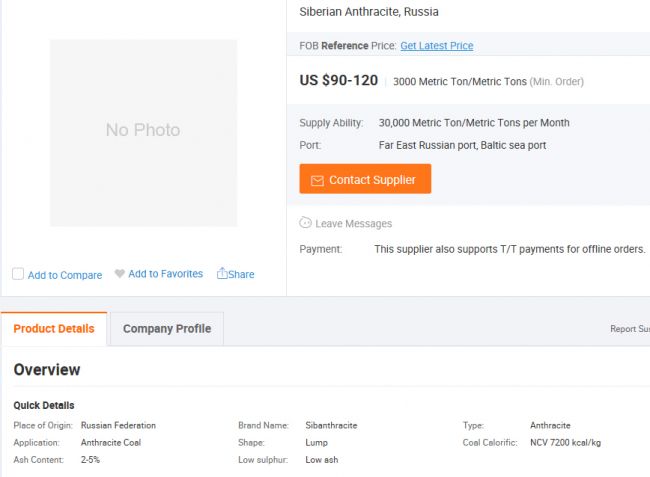 Besides, in late November, the coal prices started to rise globally due to coal deficit in China, Maxim Khudalov said. The Russian coal rose in price as well. For instance, yet in early November, Siberian Anthracite JSC supplied 484 tons of anthracite with heat efficiency of 6893kcal/kg for $100 per ton to Ukrainian Pobuzhsky Ferronickel Combine.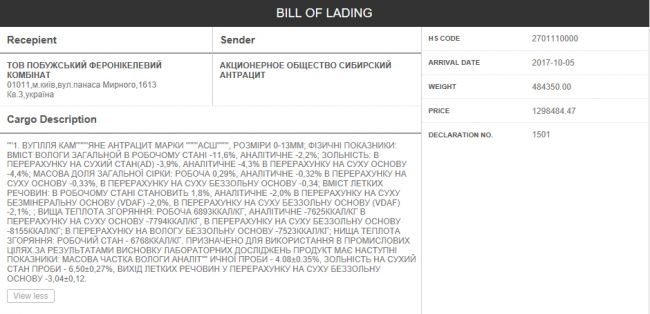 At the same time, CEO of Centrenergo Oleg Kozemko said the price of American anthracite will be changing, but the first batch cost $113 per ton in July.
Noteworthy that in December, DTEK procured anthracite from its Obukhovskaya Mine Group in Rostov Region, Russia, for $171 per ton (1.6 thousand tons for 7.46 million UAH). However, Ukrainian experts say, in this particular case, it is about profit shifting rather than real cost of the coal.

Donbass coal is still cheaper
Last October, mass media reported scandalous news about delivery of coal from Donbass to Poland. In January, Finance Department of U.S. refreshed the list of Russian companies under sanctions and added some companies that, as it claims, sell coal from Lugansk and Donetsk to Ukraine and other countries. The list included also Coal Technologies LLC in Rostov that was allegedly operated by brothers Alexander and Sergey Melnichuk (the first is deputy minister of energy of Lugansk and Donetsk People's Republics).
EADaily publishes the bill of lading saying that Coal Technologies LLC shipped 5,000 tons of anthracite for $281,000 to Ukraine in August. The cost per ton was $56.

Even in new conditions, the Donbass anthracite appears to be cheaper than the foreign ones at least by $44 per ton. Eventually, blockade of Donbass cost Ukraine at least $55 million due to supply of 1.25 million tons of coal from South Africa and U.S. alone. As to total extra payments following Kiev's refusal from the power generating coal in the southeast of the country, they exceeded $200 million, by EADaily's calculations. This is one-third of the state budget expenditures for health sector of Ukraine for the current year.