Bulgarian arms supply via Saudi Arabia to "moderate opposition" in Syria has been doubled. At present, at least two vessels of Danish H.Folmer & Co. operate on Burgas-Jeddah route. EADaily published a detailed story about Marianne Danica vessel and deliveries of Bulgarian weapons earlier. Three days ago, that vessel with a capacity of 1.4 tons was once again unloaded in Jeddah, Saudi Arabia and is now approaching the Suez Canal. It was in Burgas, Bulgaria, on May 5. Consequently, delivery of weapons from Bulgaria and to Saudi Arabia takes two weeks.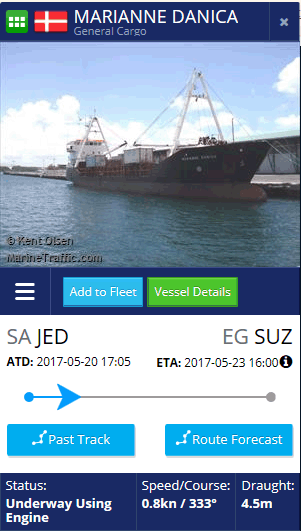 Simultaneously, a Danish vessel Hanne Danica is sailing in the reversed direction. According to Marine Traffic online service for vessel tracking, Hanne Danica entered the Bosporus early in the morning today and has reached the Sea of Marmara.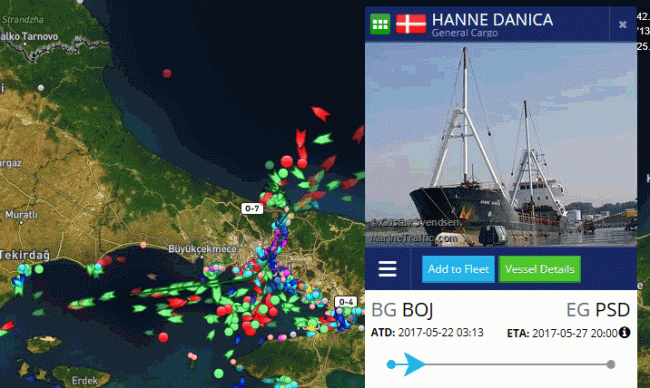 Turkish bloggers Yörük Işık and Alper Beler who are specializing in vessel tracking took photos of the vessel while it was sailing through Istanbul and posted the photos on Twitter.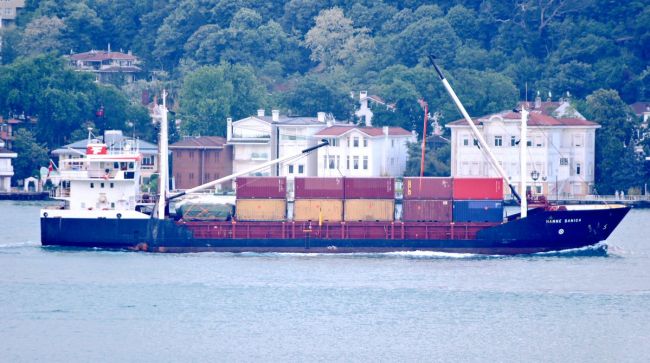 The photos leave no doubts about what Danish vessels are shipping. Earlier, cargoes were shipped in containers only and their content could be learned only from special cargo category description "Hazard A", which means that highly explosive cargoes, such as Grad multiple rocket launchers, are on board. Besides, Marianne Danica had already been involved in scandalous incidents, such as arms supplies to the Middle East, for instance, to Egypt. The client was the same - Chemring, U.S. Now, it is the official procurer of non-standard (non-NATO) weapons that are supplied to U.S. allies in the Middle East, specifically Yemen and Syria, under state programs. In Bulgaria, Chemring is one of the key customers of Vazovski Machine Building Factory (VMZ), a producer of a wide range of products, starting from pistol gun and gun bullets up to hand-held anti-tank grenade launchers and Grad rocket launchers. Jihadists of "Moderate opposition", Syrian Al-Qaeda and "Islamic State" (organizations banned in Russia) have been repeatedly noticed using VMZ ammunition.
One can see on photos that Hanne Danica is shipping two armored vehicles. It is the first time such heavy military weapons are shipped via Burgas-Jeddah route.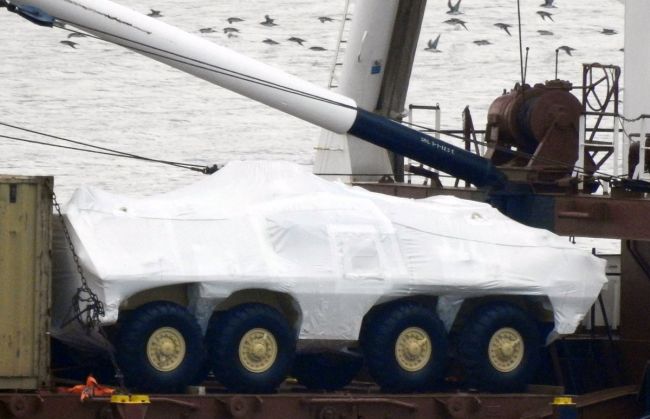 Blogger Alper Beler says one of the armored vehicles is OT-64 SKOT. The Czech Republic and Poland launched production of these heavy armored vehicles yet in 1960s. Twitter users leave comments under the photos saying the military hardware is supplied from Romania. However, we have not found any OT-64 models on websites of Romanian producers. Meantime, Tatra Defense Industrial ltd., the Czech Republic, produces such vehicles. OT-64 SKOT 8х8 armored personnel transporter weighing 12 tons has a maximum speed of 95km/h (9km.h in water). It is equipped with large-caliber machineguns, has a crew of two and accommodates 18 fully-equipped troops.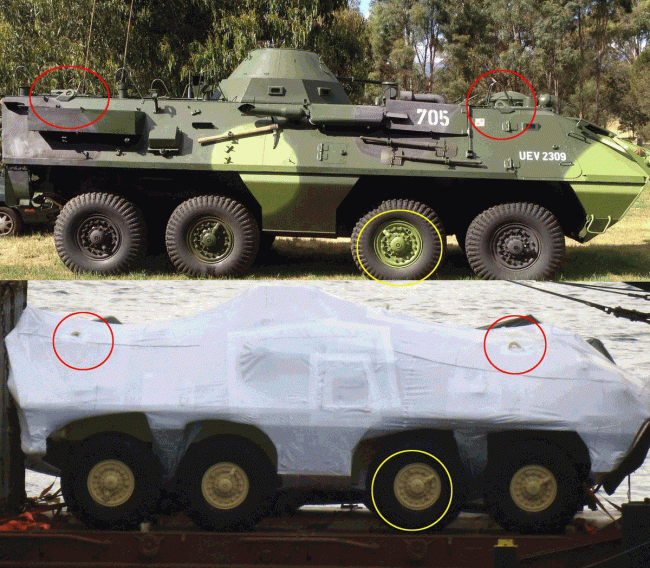 The second heavy combat equipment spotted on Hanne Danica is also a wheeled troop transporter but without turret.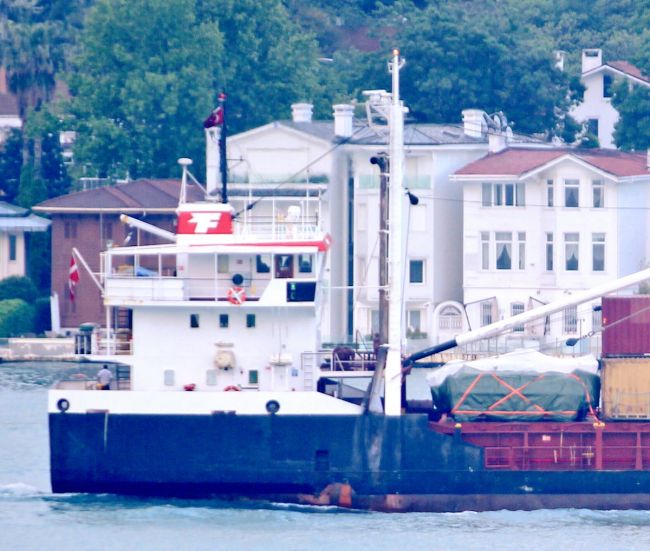 Presently, Hanne Danica indicates the Burgas, Bulgaria – Port Said, Egypt route, the same do other vessels of H.Folmer & Co. when transporting weapons to Saudi Arabia. They declare the destination only after entering Suez Canal.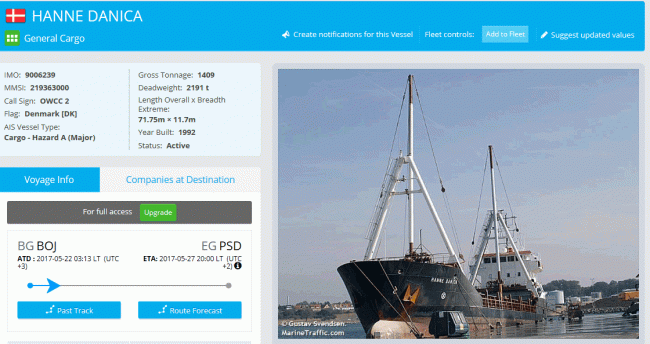 Financing under U.S. state programs to supply allies with non-standard (non-NATO) weapons has been increased, which means that arms supply to Syrian Jihadists have been increased too. In late January, Orbital ATK, American aerospace manufacturer and defense industry company, a big customer of Bulgarian VMZ, announced a new deal worth $50 million. According to the company's website, it has received order for over $200 million under U.S. government programs.
What is behind the growing supplies of weapons to "moderate opposition"? There are several theories. Military expert Yuri Lyamin explains this with potential offensive of militants supported by U.S. and Saudi Arabia to the northeast to Abu-Kamal and Deir ez-Zor from the south of Syria via dessert. "Judging from the recent developments, fight for control over the dessert border with Iraq is brewing between the government troops and armed opposition in the east and southeast of Syria amid weakening power of ISIS," the expert told EADaily.
Earlier, we reported that the United States is deploying armory on the border with Syria, and U.S. instructors started trainings for one of the Free Syrian Army groups in the southeast of the country.
Then, Yuri Lyamin said regaining control over the routes to Iraq is one of Syrian government's strategic goals when attacking IS, since it will help restoring overland supply routes from Iran and Iraq. "At present, arms, ammunition and Shiite volunteers are delivered from Iran and Iraq by air, while restoration of overland route will enhance transportation capacities. Besides, in case control over the roads is restored, Syria's government will receive fuel and other necessary goods as well. In sum, restoration of control over those routes will improve Damascus' positions, which runs contrary to U.S. interests," Yuri Lyamin says.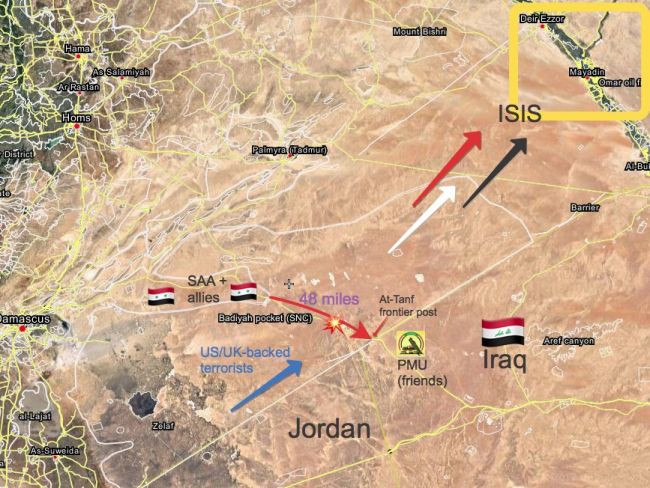 To prove the expert's statement, suffice it to say that coalition forces struck voluntary formations of Damascus heading to the dessert area near Al-Tanf, Homs province, where the main resources of the U.S. military and the militants they are training are deployed. The web is full of proofs that U.S. and Mughaweir al-Thawrah group are holding intensive military actions against the "Islamic State" near the border of Iraq and Jordan. The militants, in turn, post photos of American military who engage in battles against extremists and patrol the region.