Turkey's leadership is appalled, as the U.S. Administration decides to supply a new lot of arms and military hardware to Syrian Kurd rebels. During presidency of Donald Trump's predecessor, arms supplies to Kurdish People's Defense Units (YPG) was one of the most painful points in the relations of the two NATO allies. With Trump coming to power, Ankara cherished hopes that Washington will revise its alliance with Syrian Kurds in the east of Euphrates. However, these hopes have collapsed in a blink on May 9, when representatives of the U.S. Defense Department announced that U.S. will provide "limited arms" to Social Democratic Forces (SDF) Arab-Kurdish coalition. YPG continues to play managerial role in the coalition. Therefore, the decision of Trump's Administration can be "recognized as an asset" of Syrian Kurds that control northeastern regions of Syria and successfully pursue an offensive on "capital" of Daesh terrorist group ("Islamic State," IS, ISIL, banned in Russia) - Raqqa.
Turkey's leadership and military command were appalled by a range of factors. On April 25, Turkey's Air Force attacked YPG positions in Hasakah province, Syria. Trump's Administration reacted rather rigorously to Turkey's steps calling them absolutely irrelevant. Ankara was warned of circumstances in case such air raids repeat. To leave no uncertain issues to Recep Tayyip Erdogan and his government, on May 9, Pentagon made its explosive statement on arms supplies to Kurds.
While U.S. has not made public the names of arms to be supplies to Kurds, some diplomatic and military officials in U.S. said YPG fighters, as the most efficient forces in ground operations against ISIS, will be supplied with 120mm mortars, machines guns, ammunition and light armored vehicles. They said U.S. would not provide artillery or surface-to-air missiles to SDF.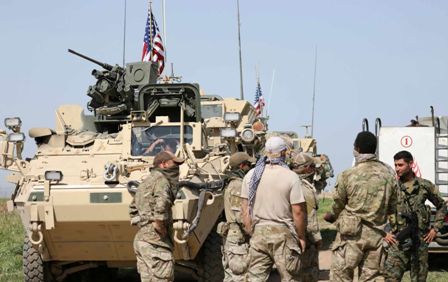 With April 25 strikes, Erdogan tried to pave the way towards future high-level talks of U.S. and Turkey, but the strikes had a reverse effect. Furthermore, ahead of Erdogan's visit to the United States on May 15 and the talks with Trump on the next day, a group of the Turkish president's proxies held consultations with American partners. The consultations started yet before Pentagon's statement on arms supplies to Kurds. Attending the talks were among others Spokesperson of the Turkish president Ibrahim Kalin and National Intelligence Organization (MIT) Chief Hakan Fidan. Pentagon's statement became a wake-up call for Turkish negotiators. Perhaps, the White House made it clear to Turkish emissaries and Erdogan that Ankara cannot negotiate with Washington on equal terms, and much less press U.S.
Trump's Administration has one more reason to show up Turks. That is, Erdogan "touched" the formats of stabilization in Syria undesirable to U.S. On May 3, Erdogan had a meeting with Vladimir Putin in Sochi. On the next day, a trilateral agreement (Russia, Iran, Turkey) was signed in Astana on Zone of De-Escalation in Syria. Ankara evidently tries to demonstrate its geopolitical alternatives to Washington. Talks for acquisition of Russian S-400 missile defense systems confirmed that Ankara seeks to make Washington "jealous."
Although Turkey sought a wide area f maneuvering and simultaneous bargaining with Russia and U.S., in the period from May 3 to 16 (between Erdogan's talks with Putin and Trump), the area for maneuvering decreased to the minimum. U.S. openly manifested their stance on Kurdish YPG as the most reliable and combat efficient partner on the ground operations in Syria.
After May 3, Russia send almost the same signals to Turks concerning the Kurds in the northwest of Syria, in Afrin, which Turkey's troops and their allies, Syrian "moderate" rebels have been uselessly trying to attack for several months already. In Afrin, Kurds raise Russian flags, and one can see officers of Special Operation Forces and Military Police of Russia's Armed Forces there regularly. Both U.S. and Russia make it clear to Turkey that it is making useless efforts to persuade the two Big Powers to throw Kurdish rebels of Syria, which Ankara calls "terrorist organizations," under the bus.
There is a nuance that increased the shock of the Turkish leadership i.e. during his Middle East trip, Trump will visit Saudi Arabia, first. It appears that he is not going to travel to Turkey even afterwards. Noteworthy that the Turkish president is actually summoned to the While House on May 19, a few days ahead of the U.S. President's trip to the Middle East (Saudi Arabia, Israel) and Europe (Vatican, NATO Summit in Brussels and G-7 in Sicily).
Erdogan "gets slap in the face" by U.S. at every step. He has to endure and try to find common ground to build his relations with Trump's Administration. Washington-based think-tanks are drawing an approximate scheme of "deal plans" of the two NATO allies (1). The sides will focus on Kurds in Syria and Iraq. Turkey and U.S. may make mutual concessions in Raqqa, Syria, and Sinjar, Iraq, to strike a viable deal.
▼ читать продолжение новости ▼
Last week, the U.S.-backed SDF and Kurdish YPG threw Deash terrorist out of Tabqa town and Tabqa Dum to Al-Assad reservoir located 50km to the west of Raqqa. Immediately after that Kurds announced the date of launching a crucial offensive on the "caliphate's" capital in early June. The Turkish army remained aside of the Fury of Euphrates Operation failing to either increase the role of Arabs in SDF to counterbalance Kurds or involve special forces of Saudi Arabia and its Gulf allies into operation to storm Raqqa. To somehow prevent expansion of the area controlled by Kurds into the south of Turkish borders and inevitable efforts to establish Syrian Kurdistan in the east of Euphrates, Ankara is trying to persuade Washington to launch operation against "terrorists" of the Kurdistan Workers' Party (PKK) in Sinjar.
After a series of massive strikes of Turkish air forces on major bases of PKK in Qandil Mountains in the north of Iraqi Kurdistan, a significant part of Kurdish fighters and their field commanders regrouped in Sinjar occupying a favorable disposition near the Syrian border. PKK's presence in Nineveh province, Iraq, appears to be inadmissible to Turkey. Without "a green light" from U.S. and amid extremely tense relations with Baghdad, Turkey's intervention into Sinjar may turn into another great trouble for Erdogan.
What encourages Turks to invade Sinjar is the presence of its "military instructors" in Bashiqa, in the northeast of Mosul. The battle for Mosul is due to end. Turkish "instructors" in Bashiqa camp continue their mission training local forces to fight Daesh terrorists despite Baghdad's demands to send the "instructors" home. Actually, only a hypothetical ground operation of Turkish army in Sinjar may prolong the presence of the undesirable guests in Bashiqa.
So far, Turkey's anger over PKK's redeployment from Qandil to the west, closer to the Syrian border, resulted in the strikes on April 25 and the statement by Turkish generalship against establishment of "Kurdish terrorist" bases in Sinjar. Ankara's further behavior will depend on the results of Erdogan's talks in Washington. Kurds have achieved much, despite the benefits Erdogan may get from Trump. They have left Turkey behind by playing on the balance of interests of the global and regional super powers.
At once several key actors in Syria and Middle East are interested in creating in "buffer line" between the Turkish army and government troops in Damascus. To that end, they can use also the areas under control of SDF and Kurdish YPG coalition. Whether these territories will take shape as recognized or accepted by default "Syrian Kurdistan" in the future does not matter any longer. What matters is that the given formation, which will be called "Federation of Northern Syria" or somehow else not to accentuate the Kurdish element in it, already has serious grounds to claim a special status in the post-war Syria.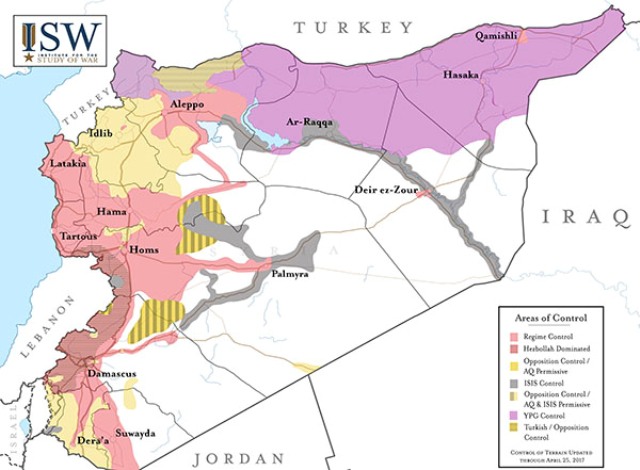 Components of the de-facto Syrian Kurdistan are increasing with the support of U.S. despite Turkey's discontent. Russia and Iran, Turkey's partners in ensuring ceasefire and creating De-Escalation Zones, take a positive view of the idea of reinforcing Kurdish positions in the extensive "buffer line." Saudi Arabia and Israel have a generally neutral stance on the issues, but they will not lose the chance to have a "powerful irritator" for Turkey in its southern underbelly.
Syrian Kurds have been and will be supplied with arms as offensive on Raqqa progresses. U.S. military in the region have no alternative anti-Jihadi ground forces except the 25,000 YPG rebels (by data of Pentagon and U.S. Armed Forces Central Command, SDF coalition comprises about 50,000 troops, half of which is Kurdish YPG). Driving Deash from Raqqa and accessing the administrative borders of Deir ez-Zor, the Arabic-Kurdish units may be partially mobilized also to act against the last major foothold of terrorists – Deir ez-Zor and adjacent regions. In the territory to the south of Raqqa with Deir ez-Zor in the south, the boundaries of the future Syrian Kurdistan will hardly expand significantly. Kurds and their allies from Arab tribes of northern Syria are yet to demonstrate an effect control over the lands won back from the "caliphate."
Kurdish self-defense units with American and partially Russian arms and military hardware will be reorganized into certain militarized "Peshmerga" formations of Iraqi Kurdistan. This will take a few months after Daesh "capital" Raqqa falls. Starting from that very moment, establishment of de-facto Syrian Kurdistan will become inevitable.
Cornered by everyone, the Turkish leader is unable to reverse the situation at his upcoming talks with Trump. He will hardly manage to bargain out any compensation from the U.S. Administration either. At best, Erdogan will get a mere pittance in terms of Fethullah Gulen's extradition from U.S. – Turkish authorities blame the preacher for coup attempt of July, 2016. Turkish authorities have no reasons to expect more.
(1) Soner Cagaptay, Reaching a U.S.-Turkish Deal in Syria: Four Steps // The Washington Institute for Near East Policy, May 12, 2017.
EADaily's Middle East Bureau