Turkish warships still block Saipem 12000 drillship in the Cyprus economic zone. According to TankerTrackers.com bloggers, the warship has not reached gas drilling location No.3 off the coast of Cyprus. Yesterday, they published satellite imagery of drilling rig adrift and Turkish warships at the drilling location. Marinetraffic's data have confirmed the information of TankerTrackers.com.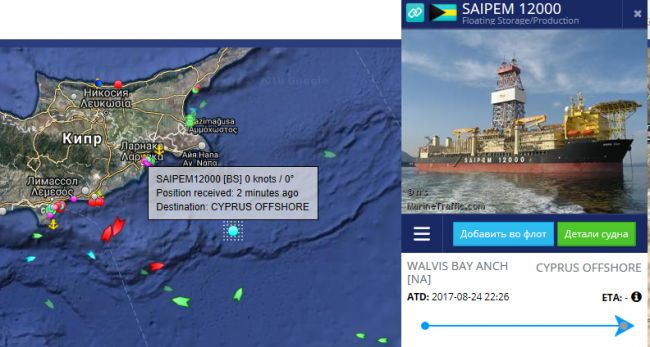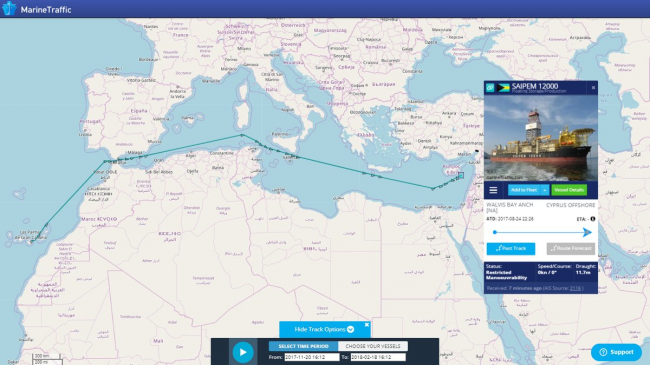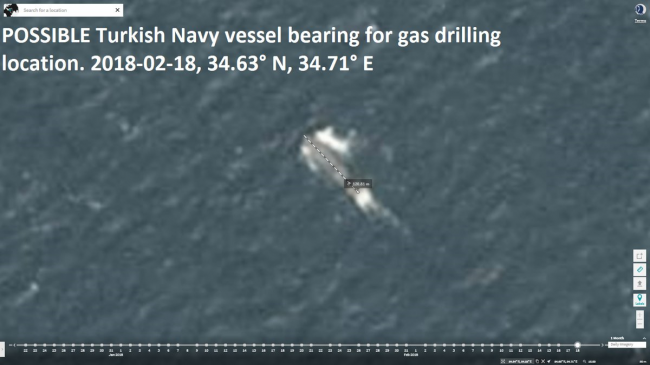 It is commonly known that after Turkey's invasion in 1974, there are two acknowledged states in Cyprus – Cyprus and Northern Cyprus. The latter is recognized by Turkey only. Drilling location No.3 is adjacent to the conditional economic waters of Northern Cyprus, and Turkey's Navy has blocked the Italian drilling rig from the drilling location since the second half of February. Representative of Eni, Italian company rigging in waters of Cyprus, told Reuters that warships stopped the drillship due to what they called military operations in the region. Afterwards, the foreign minister and president of Greece reported violations of the international law by Turkey, while the president of Turkey blamed Cyprus and Greece for infringing the international law and recommended them to avoid encroaching upon Turkey's rights to the Eastern Mediterranean.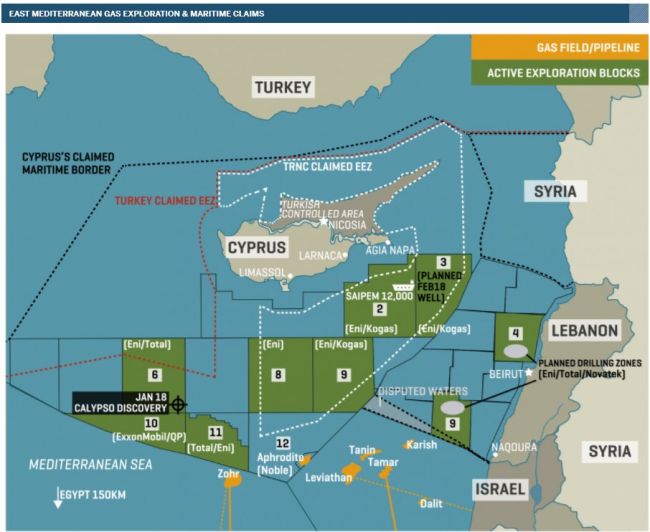 Deputy Director of the National Energy Security Fund Alexey Grivach has brought several factors of the conflict around oil and gas fields of Cyprus. "The key factor is the fight for resources. Ankara claims part of the shelf as patron of Northern Cyprus. Naturally, they are keen to get resources of Levant Basin to develop their own hub, but do not succeed so far," the expert says.
Evidently, Turkey that seeks to become a gas hub for Europe, is frustrated with possible emerging competitors. During the last decade, several large sea gas fields were explored in the Mediterranean Sea in Israel, Egypt and Cyprus. Construction of EastMed gas pipeline running from Israel with a branch to Cyprus and to Europe is actively discussed now. Since gas volumes of newly emerged fields are estimated at some 10 billion cubic meters, construction of the pipeline is not as realistic as construction of the Southern Gas Corridor from Azerbaijan and the South Stream from Russia via Turkey. Although European Commission allocated $34.5 million for development of EastMed plan, the future of the gas pipeline is hanging in the air. The major issue is the gas cost value.
According to Charles Ellinas, a nonresident senior fellow with the Atlantic Council*'s Global Energy Center, Israeli and Cyprian gas cannot compete with the Russian gas either through pipeline or as LNG due to costs. Gas from those gas fields cannot be sold at the average European price of $177-$213 per 1,000 cubic meters in EU countries. Cost value of Israel's gas at Leviathan gas field is estimated at $160 by Noble Energy. Therefore, gas from the Mediterranean will be expensive irrespective of the transportation route: either via Mediterranean or Turkey, the expert says.
Since 2000, Turkish Petroleum Corporation (TPAO) has been actively exploring oil and gas fields in the Black Sea and Mediterranean and jointly with Western companies invested several billions of dollars in exploration surveys, acquired and built several seismic survey vessels. Unlike its neighbors, Turkey has not received any significant results from the projects and still depends on gas import by 99%. For instance, in 2016, the country recovered 386 million cubic meters of gas, but imported 46 billion cubic meters. At the same time, over the last 10 years, 2 large gas fields – Leviathan and Tamar – with total reserves of 900 billion cubic meters were opened in Israel, Zohr gas field with 850 billion cubic meters of gas in Egypt, Aphrodite gas field with 127 billion cubic meters of gas in Cyprus. With the current consumption rates, these reserves will be enough to the island for more than 100 years. Besides, Saipem 12000 drillship before sailing to location No.3 that is currently blocked by Turkish warships conducted successful drilling at another Cyprian drilling location No.6 for Eni and Total. On February 8, Italian Eni announced opening of gas field with similar structure as Zohr in Egypt. Such state of affairs could not but frustrate Ankara even more. Turkey has not found anything worthy on its shores over the last 20 years.
*Организация, деятельность которой признана нежелательной на территории РФ